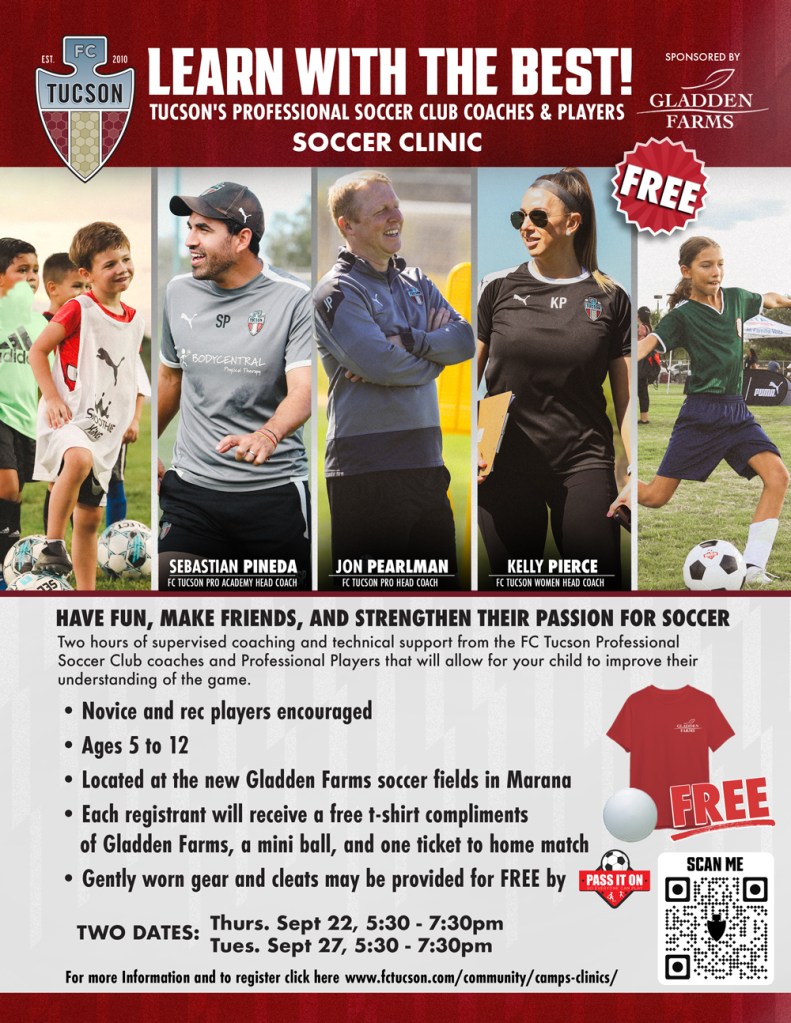 FC Tucson has partnered with Gladden Farms, a popular master-planned lifestyle community featuring new homes in Marana, to be one of the team's exclusive community partners, providing financial support to help fuel and underwrite costs for the 2022 season.
Gladden Farms was the presenting sponsor of the FC Tucson match on Saturday, July 23, and donated 100 event tickets for FC Tucson fans. Gladden Farms will also host three FC Tucson Soccer camps/clinics at its two new, regulation-size soccer fields located at 12205 N. Tangerine Farms Road.
"Gladden Farms is excited to support FC Tucson and to ensure the team continues to thrive and excite fans throughout southern Arizona and beyond," said Jimmy Gaulin, Tucson land development manager. "This partnership is in keeping with our philosophy of supporting activities that offer Tucson families and individuals of all ages lively, entertaining and inclusive experiences."
SIGN UP FOR OUR FREE CLINIC
Thursday, Sept. 22 (5:30-7:30 pm)
Tuesday, Sept. 27 (5:30-7:30 pm)
About Gladden Farms
Gladden Farms is owned by Crown West Land Group, a leader in the development and management of residential master-planned communities, providing subdivision land and amenities for the homebuilding industry. It is a division of Crown West Realty LLC, a privately owned real asset investment, development and management company with offices in New York, Phoenix, Denver, Tucson and Spokane. Formed in 1996, Crown West Realty is the operating subsidiary of New York Investment firm Petrus Partners Ltd. Visit GladdenFarms.com to learn more about new construction homes and community amenities.