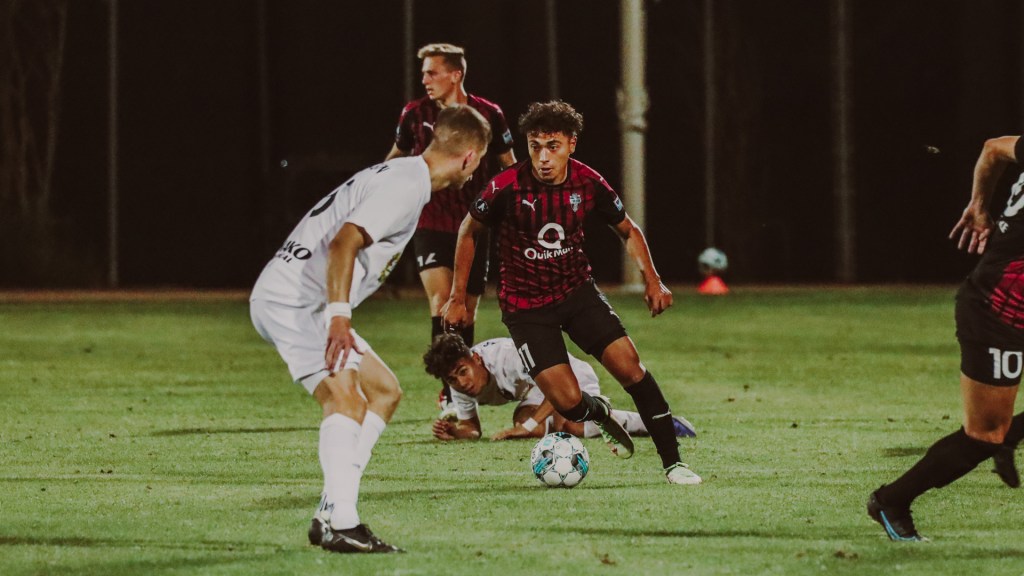 Rich Strike proved last weekend at Churchill Downs a slow start can be overcome, and FC Tucson looks to start its own charge to the front of the USL League One pack this weekend when it travels to North Carolina to take on Charlotte Independence.
Fans here can watch the match with the official Watch Party at Home Plate Marana, with kickoff slated for 3 pm local time on Sunday.
FC Tucson is 1-3-1 (four points) after a heartbreaking loss to North Carolina FC at home this past weekend. But the last time Tucson traveled, it grabbed three points on a late goal from Chattanooga. And the club had key road win last year against eventual champion Union Omaha and took points from trips to Greenville and Chattanooga.
"We're very comfortable playing anywhere," said FC Tucson head coach Jon Pearlman. "We've gotten points in some of the hardest environments.
"We believe we can create scoring chances, we believe we can win in places that are difficult, and we can come back when things don't go our way."
It will be FC Tucson's first trip to American Legion Memorial Stadium to play "The Jacks." Charlotte Independence was founded in 2014 after acquiring the USL Pro rights from southeast soccer mainstays, Charlotte Eagles, which moved back down to the pre-professional ranks. Former FC Dallas head coach Mike Jeffries has primarily coached the team since its inception. He briefly moved to General Manager in 2019 before resuming the reigns in June of that season.
The team made the USL Championship playoffs last season after it had announced it was moving to USL League One in 2022.
Charlotte (2-1-2, eight points) is led by Tresor Mbuyu, who was named the USL League One Player of the Month for April, and Miguel Ibarra. Mbuyu is a 5-10 forward from DR Congo who played collegiately at Liberty University. The 32-year-old Ibarra is a former US National Team player, with two caps, and is a veteran of both the MLS (Minnesota United and Seattle Sounders) and Liga Mx (Club Leon).
"They certainly have enough talent – they've beaten some good teams this year and are sitting very solid in the table," said Pearlman. "It's a team that's really hard to predict. There's games where they're good in possession and have created chances, and there are games where they've had 150 pass and have been comfortable in low block and defending.
"They're trying to find their identity, like a lot of of teams are that have shifted their rosters. There's certainly plenty of danger on that team and we just have to be the team that's sharper."
In two of FC Tucson's last three defeats – April 19 in the Lamar Hunt U.S. Open Cup against Cal United Strikers and this past Saturday against North Carolina – the club scored in the opening 20 minutes. Failure to convert a second goal, though, proved ultimately costly.
Deri Corfe converted just nine minutes into the match against North Carolina, and the offense had a number of chances just miss that would have given them a two-goal cushion. It's that performance out of the gate that Pearlman would like to see replicated and the team has the talent to carry that through for a full 90 minutes and bring a win home from the East Coast trip.
"We're really like to have a great start like we did last match, and really see that through and build on that," said Pearlman. "We have a lot of confidence we can go to Charlotte and come back with something positive."