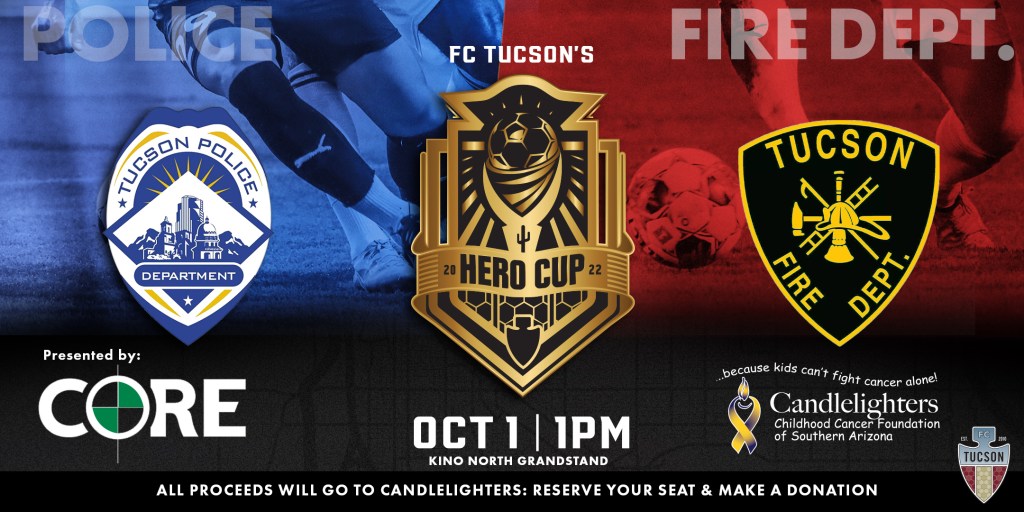 Proceeds from Second Annual Event To Go To Candlelighters Childhood Cancer Foundation of Southern Arizona
TUCSON, Ariz. – The Tucson Fire Department and the Tucson Police Department are set to go head to head on the pitch, with bragging rights on the line, as FC Tucson hosts the Second Annual Hero Cup presented by CORE Construction.
The match will be held at 1 p.m. on Saturday, October 1, at Kino North Grandstand. The event is free to the public with donations going to support Candlelighters Childhood Cancer Foundation of Southern Arizona.
Core Construction, which has been building communities in Arizona for more than 38 years and is the No. 1 Education Builder in the southwest, has donated $2,500 to match individual donations for the game.
"We are constantly inspired by the great work the Tucson Fire Department and Tucson Police Department do in this community, and it's our pleasure to be able to provide an opportunity for them to play one another on a first-class field and raise money for an important cause," said FC Tucson President Amanda Powers.
RESERVE YOUR SEAT & MAKE YOUR DONATION
"The Tucson Police Department is excited for the opportunity to share the soccer pitch with our public safety partners at the Tucson Fire Department," said Tucson Police Department Chief Chad Kasmar. "This battle of the badges will allow fire and police personnel to share their passion for the game with the Tucson community — and raise funds for an incredible cause. On top of all that, it will give our police officers a chance to work up a healthy appetite for the victory meal, made lovingly by our friends at the fire department after we get the big win."
"The Tucson Fire Department looks forward to an evening of friendly competition on the pitch with our Tucson Police Department colleagues," said Tucson Fire Department Chief Chuck Ryan. "It's an opportunity for our members to showcase their soccer talents in support of an amazing charity that does such important work in southern Arizona."
Chief Ryan added the best part of the evening "will be when Tucson Fire hoists the cup in victory at the end of the match after vanquishing our opponent!"
Candlelighters, founded in 1985, supports, serves, and advocates for children and adolescents with cancer, sickle cell and other blood disorders, their families, long term survivors, bereaved families, and the professionals that care for them.
"We are excited to be the beneficiaries of the Hero Cup this year. Childhood Cancer takes the lives of more children than any other disease and the emotional and financial impact can be devastating to a family. Candlelighters attempts to mitigate some of the impact of a child's serious medical diagnosis," said Beverley Tidwell, Executive Director of Candlelighters Childhood Cancer Foundation of Southern Arizona.
In last year's inaugural Hero Cup, DM United – representing the Davis-Monthan Air Force Base in Tucson – defeated TPD, 7-6 after eight rounds of penalty kicks following a 0-0 draw in regulation.
The match will be held at the Kino North Sports Complex on Ajo and Country Club Road near the Sam Lena Recreation area.
About FC Tucson
FC Tucson is Southern Arizona's preeminent soccer club. Founded in 2011 as an amateur side, we have grown to encompass a professional men's team, a championship-winning amateur women's team, and a youth professional academy program for top regional talent. We annually host preseason events for top professional soccer teams in the U.S.
About CORE Construction
Utilizing comprehensive construction knowledge and industry expertise, CORE provides exceptional building services in 13 markets, including the K-12, Higher Education, Municipal, Public Safety, and Senior Living sectors.
About Candlelighters Childhood Cancer Foundation of Southern Arizona
Candlelighters serve approximately 350 families in the Tucson and southern Arizona area. We work closely with the Banner Diamond Children's hematology/oncology staff. In Southern Arizona about 70 children a year are diagnosed with cancer, the average age at diagnosis is 6 years old and treatment lasts an average of 2 ½ years. For many children the long-term effects remain for a lifetime and navigating a new normal in school is very difficult. School advocacy is an area we provide numerous resources. The financial impact of a diagnosis is staggering and Candlelighters helps to identify appropriate resources and also provides some financial assistance in conjunction with the hospital social workers.