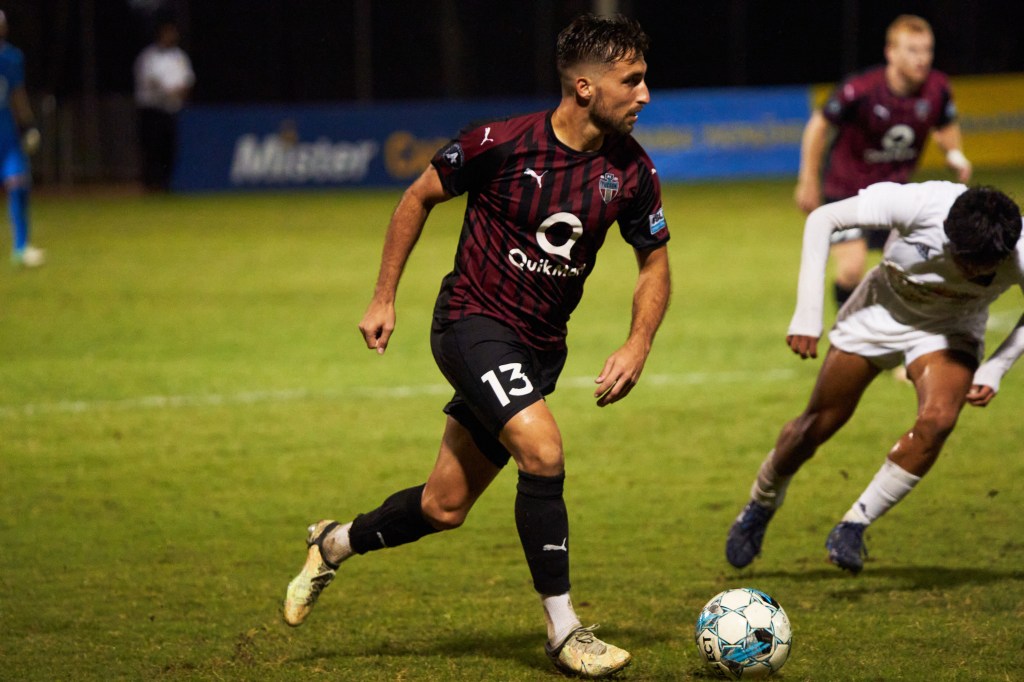 FC Tucson again waited out a nearly three-hour lightning delay and then responded with another big win.
Louis Perez converted a second-half penalty to lift Tucson to a 1-0 win over North Carolina FC Tuesday night at Kino North Stadium, extending its unbeaten streak to four matches and keeping its USL League One playoff hopes alive.
Perez was pulled down in the box in the 65th minute while chasing a Daniel Bedoya free kick. He stepped up and drilled the ensuing PK for his fifth goal of the season.
FORMIDABLE!
LOUIS converts!!!

1-0 Tucson#fuerzatucson 🌵 | #TUCvNC pic.twitter.com/86j4gJUudI

— FC Tucson (@FCTucson) September 21, 2022
It's Tucson's third straight home win after starting the season 0-7-3 at Kino.
RELATED: MATCH CENTER
Tucson (7-12-6, 27 points) has also allowed just one goal in the last 360 minutes.
Six FC Tucson home matches have either been delayed or postponed this season.
Tuesday's game, which was originally scheduled for July 30 before being postponed because weather kept North Carolina from reaching Tucson, was bitten by the elements as well when lightning forced Tuesday night's kickoff to be pushed back minutes before the scheduled start.
In the first half, both teams played sluggishly with North Carolina (7-13-5, 26 points) having more chances. In the second half, an inspired FC Tucson came out on the front foot and that eventually resulted in Perez's game-winner.
QUOTES
"It just takes one moment of magic. Louis would say it's not his strongest game, but that's why you keep Louis Perez out there for that critical moment. He can turn the game like he did in Tormenta." – FC Tucson Head Coach Jon Pearlman
"You've got to look at the back four. Eric Kinzner and Luca (Mastrantonio) and Kaelon (Fox) and Jake (Crull) on critical tackles; and Carlos (Merancio) on critical holds in goal. The whole back four plus Burke (Fahling) were excellent. As ugly as it looked, it was a dream result." – Pearlman
"We were not really happy with the performance in the first half, collectively and individually, but man, we're fighting every game. Every game is a final. Every game is a Cup game. We're not really happy about the performance, but we're happy — very, very happy — with the result. We're still in the race." — Louis Perez, FC Tucson
FC Tucson will again be at home on Saturday, Sept. 24, when it takes on Chattanooga Red Wolves SC in a match presented by Right Sure Insurance at Kino North Stadium (BUY TICKETS).