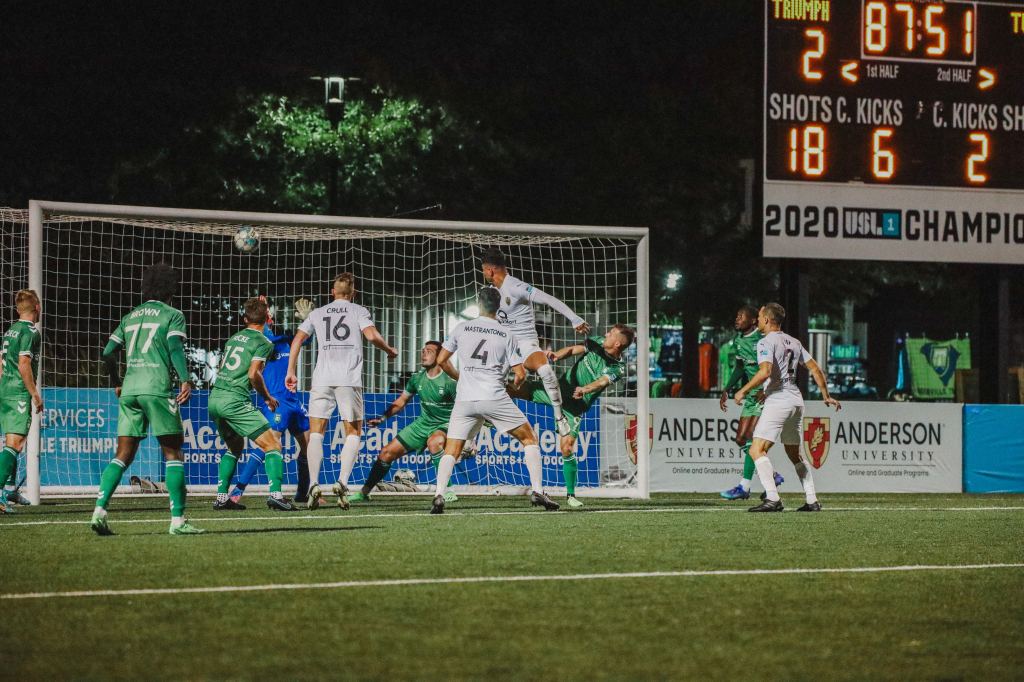 GREENVILLE, S.C. — Fernando Garcia outlept the defense. And kept FC Tucson's season alive.
Garcia's header in the 88th minute gave FC Tucson a 2-2 tie with Greenvill Triumph SC on Saturday night at Triumph Stadium at Legacy Early College.
Garcia, a substitute in the 62nd minute, elevated to re-direct home a flick from Joao Delgado off Charlie Machell's corner kick. Delgado and Machell were also late second-half subs.
GET UP FERNANDO!!!

The corner, the flick and the game-tying goal!!!!!#fuerzatucson 🌵 pic.twitter.com/h7nsbAHVRG

— FC Tucson (@FCTucson) October 2, 2022
Tucson went up early on an own goal in the 20th minute when Greenville's Brandon Fricke knocked Jacob Crull's low cross into his own net.
Throw it at the goal. You never know what will happen!

Tucson 1, Greenville 0#fuerzatucson 🌵 | #GVLvTUC pic.twitter.com/Nnw3nd85rj

— FC Tucson (@FCTucson) October 1, 2022
Triumph (11-8-9, 42 points), who had been 0-8-3 after conceeding the first goal, took the lead on goals in the 36th minute and 75th.
But Tucson, which extended its unbeaten streak to six (4-0-2), wouldn't go quietly.
RELATED: Match Center
Carlos Merancio finished with four saves and two punches for Tucson (8-12-7, 32 points).
The draw, coupled with Chattanooga Red Wolves SC's 3-1 win over Charlotte Independence, narrowed Tucson's path to the playoffs.
Tucson must win its final three matches (Oct. 5 vs. Central Valley Fuego, Oct. 8 at Northern Colorado Hailstorm, and Oct. 15 vs. Forward Madison), and get help. It needs Charlotte to either lose its final two matches (Oct. 8 at Greenville Triumph and Oct. 15 at North Carolina) or have a lose and a tie and finish with a worse goal differential than Tucson. Charlotte currently holds a four goal advantage.
Tucson could technical get in over Chattanooga or Tormenta if they lose their remaining games, but Chattanooga holds a 21-goal advantage and Tormenta holds a seven-goal edge.
QUOTES
"We had to get three points and we didn't. Any other time, we'd be ecstatic getting a draw on the road in a tough environment like Greenville. I'm still incredibly proud of the effort. They could have put their hands in their heads after that second second. Instead, they rolled up their sleaves and put up a fight." – FC Tucson head coach Jon Pearlman
"The manner we conceded was more frustrating. The effort was extraordinary. The technical and the execution at moments wasn't." – Pearlman
"There was an incredible fight among the group – just a lot of pride. We won on Wednesday, we're not dead. That's what we have to do. We've transitioned to that. This is over and we need to move forward." — Pearlman
FC Tucson returns to Kino North on Wednesday, Oct. 5, for its penultimate home match of the season. The Western Clasico against Central Valley Fuego will be Southern Arizona Heritage Night presented by Tucson Orthopaedic Institute. (BUY TICKETS).