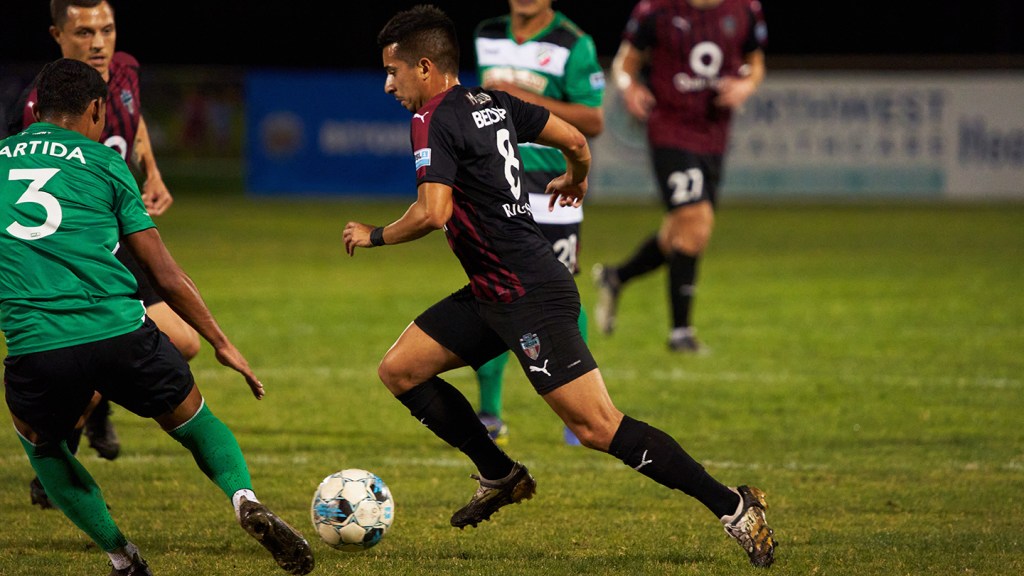 After a storm handed FC Tucson another delay in a season of weather delays at Kino North Stadium, the Central Valley Fuego FC rained more on the the club's parade with a pair of second-half goals Wednesday night.
The 2-0 loss ended a six match unbeaten run and eliminated FC Tucson from the playoff race on Wednesday night.
The game started 2 hours and 49 minutes late because of a monster storm that took its time going over Kino North. It was the seventh time in 2022 that an FC Tucson home match was delayed or halted because of weather.
RELATED: MATCH CENTER
Both teams struggled to put the ball on target In a rough-and-tumble first half that saw five yellow cards.
It was Central Valley that struck early in the second half with a goal from Zahir Vazquez six minutes in. Christian Chaney added another in the 68th minutes.
Tucson poured forward to try and get back into it in the final 22 minutes, but Fuego (10-12-7, 37 points) did enough to hold on and keep its slim playoff hopes alive.
QUOTES
"It's just a lot of tired guys, a lot of disappointment. We wanted to play for our fans and we didn't have the opportunity to. I have to admit it hurts and I think it feels unfair and unfortunate. I'm just proud of the effort." – FC Tucson head coach Jon Pearlman
"It's tough. You're starting games late here. We've had basically five neutral site games here. Our crowd wants to be here. We want them here. The weather doesn't cooperate. And you need that, when you're home, that kind of lift, that kind of push that would have been so helpful tonight." – Pearlman
"After giving up the 2-0 game to Fuego, and they've had our number this year …. it was so difficult that moment; they could have packed it in. They didn't. They worked very hard. They still worked hard tonight. A lot of pride on that field." – Pearlman
"Just disappointing. That's the first thing that comes to mind. I think we had a good opportunity tonight. Just as a team, I don't think we performed the way we needed to." — FC Tucson's Jacob Crull.
FC Tucson (8-13-7, 31 points) will play its penultimate match of the season on Saturday, Oct. 8, at the Northern Colorado Hailstorm. Kickoff is set for 6 p.m. The club returns home to finish the season on Saturday, Oct. 15, for Fan Appreciation Night presented by Pueblo Vida (BUY TICKETS).