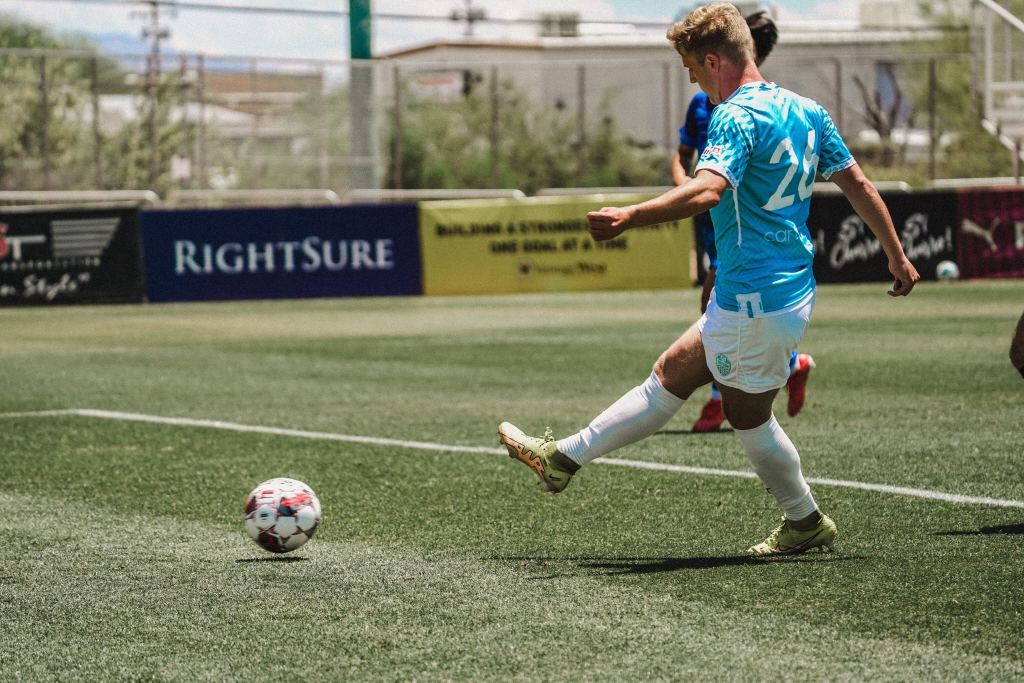 Forward Ethan Stevenson scored a franchise-record four goals and netted one of the quickest four-goal hauls you will ever see in The Beautiful Game to lead FC Tucson to a 5-1 exhibition victory over Olympians FC at Kino North Stadium on Saturday.
Stevenson was on fire from the start in a match that started at noon on a hot May day. He opened his scoring with a goal in the sixth minute to give the Men in Black a quick 1-0 lead and then took advantage when the Olympians goalkeeper made a mistake coming out in the ninth minute to double the lead.
In the 19th minute, Stevenson, who is from South Carolina, was on the end of an excellent cross from the right side by midfielder Duvan Canchila to send the ball into the back of the net and become just the seventh player in FC Tucson history to have a hat trick.
It didn't take long for him to break that deadlock. In the 28th minute, he looped a shot over the keeper to put himself alone at the top of the FC Tucson match goal-scoring record book.
Hungarian Gyorgy Kamaras wrapped up the FC Tucson scoring in the second minute of stoppage time in the second half of the match against the UPSL team from El Mirage, Arizona.
FC Tucson's next game will be May 24 at Arizona Arsenal in USL League Two action. Kickoff is set for 8 p.m.
The Men in Black will return home on Saturday, June 3, to take on Capo FC. That USL League Two kickoff is set for 7:30 p.m.