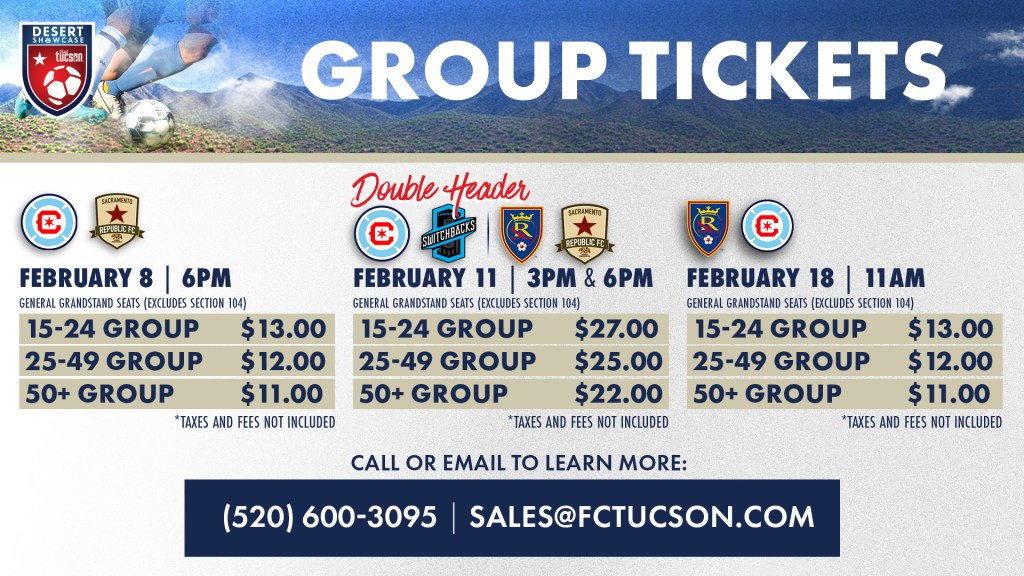 Desert Showcase Presented by Visit Tucson
ABOUT THE DESERT SHOWCASE PRESENTED BY VISIT TUCSON
Get ready to celebrate the beautiful game like never before in Southern Arizona!
The 2022 Qatar World Cup has officially come to a close, but not without leaving us with a spectrum of emotions and amazing memories. As we move into 2023, we prepare for what will be an exciting buildup to 2026 as the United States, Canada, and Mexico prepare for what will be the first world cup ever to be hosted by three nations.
The 2026 World Cup is set to change the dynamic of soccer in the US forever; and Tucson is right in the mix.
FC Tucson has been laying the groundwork for this momentous occasion through annual MLS pre-season training events right here at Kino Sports Complex, cultivating some of America's best players and leading some to become US Men's National Team members or MLS stars!
Through the years, Kino Sports Complex has hosted some of soccer's greatest teams and legends like David Beckham and Thierry Henry along with US Men's National Team members Kellen Acosta and Deandre Yedlin, and 2023 will be no exception.
The 13th installment of the Desert Showcase presented by Visit Tucson will be a grand celebration of premier MLS and USL teams with Real Salt Lake, Chicago Fire, Colorado Springs Switchbacks, Phoenix Rising, and Sacramento Republic all within the lineup – it's going to be something special!
Save the Date!

Be sure to mark your calendars, as we have 4 exciting bouts within 3 matchdays:
Desert Showcase Matchday 1:
Wednesday, February 8 at 6:00pm
Chicago Fire v. Sacramento Republic
Desert Showcase Matchday 2 (Double-Header):
Saturday, February 11 at 3:00pm
Chicago Fire v. Colorado Springs Switchbacks
Saturday, February 11 at 6:00pm
Real Salt Lake v. Sacramento Republic
Desert Showcase Matchday 3:
Saturday, February 18 at 11:00am
Real Salt Lake v. Chicago Fire