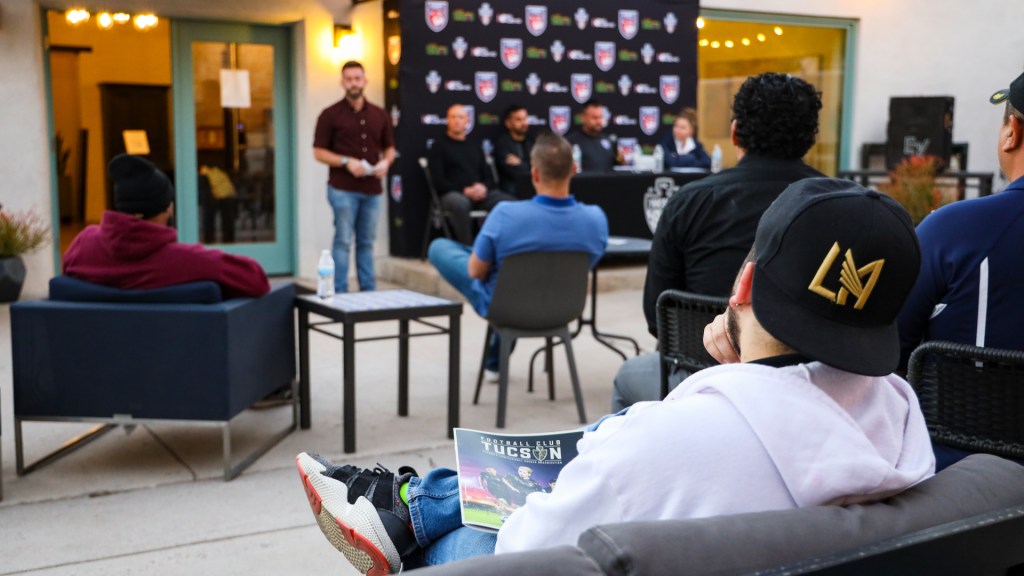 The path from youth to college to the pros has evolved for all players in the United States.
FC Tucson hosted the Coaching Symposium on Friday at La Suprema Works & Events for local coaches to learn more about how the path to pro landscape is changing.
"If we're going to reach our potential as a soccer nation," said USL Pro Academy Technical Director Liam O'Connell. "We need our best teenagers to be challenged and put into a men's and women's senior team environments as soon as developmentally ready."
FC Tucson Pro Academy Head Coach Sebastian Pineda, University of Arizona Women's Soccer Head Coach Becca Moros, Louisville City FC Assistant Coach Simon Bird and W Sports Performance Coach James Wagenschutz came together to discuss topics ranging from how they've seen youth programs change and how to get the best out of the young players. The event was moderated by O'Connell.
"Louisville, like many communities in the U.S. was overloaded with soccer clubs, there were 11, 12 club options for players. That's where people like Liam come in and build the path to pro," Bird said. "We want the best for players and people are coming together and understanding that there is a true pathway now."
With Louisville City FC Head Coach Danny Cruz and Bird at the reins, the club has completed the transition of a player coming in through their academy reaching the first team. Elijah Wynder came through Louisville's academy and signed a first team contract at the age of 18. He currently plays on loan for FC Tucson.
"There's more opportunities to explore different pathways in the women's game that didn't exist before," Moros said. "We've seen our first female high school players on endorsement deals that don't prohibit them from going to college and we're seeing more high school kids go into preseason with pro teams without it jeopardizing their eligibility."
Under Moros, the Arizona Wildcats took down rival Arizona State 2-1 in the 2021 regular-season finale, the team's seventh straight win over the Sun Devils. She also helped guide senior Jill Aguilera to become Arizona's all-time leader in goal's scored.
The Desert Showcase presented by Visit Tucson will continue on Feb. 20 when USL Championship teams Oakland Roots and FC Tulsa face off at Kino North Grandstand. (10 a.m., RESERVE YOUR SEAT).