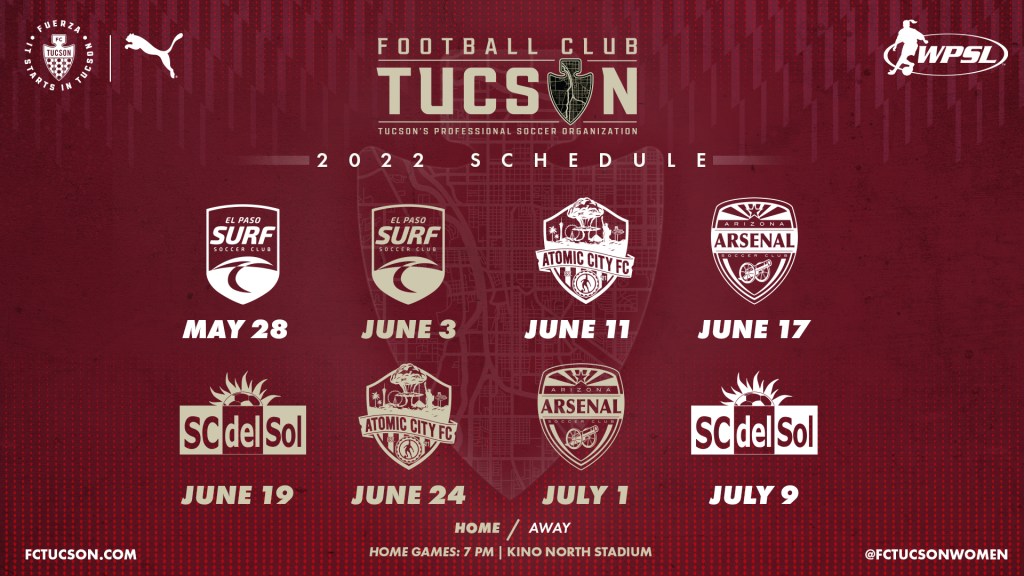 Coming off an undefeated championship season, FC Tucson will look to continue that success when the 2022 season officially kicks off in May.
FC Tucson will open the 2022 WPSL season in Texas against El Paso Surf on Saturday, May 28. The club will have its home opener on Friday, June 3 against El Paso Surf.
WPSL released the complete schedule for the 2022 regular season on Friday, and FC Tucson Women's eight-game regular season will run through July.
WPSL is bringing back 120 members and 29 expansion teams for the 2022 season. With realignment, FC Tucson will remain in the Desert Conference with three other returning teams and welcome Phoenix-based Arizona Arsenal Soccer Club. The winner of the Desert Conference will advance to the West Region semifinals; the winners of the four regions will play for the national championship.
THE WPSL UNVEILS ITS 2022 ROSTER OF TEAMS AND ALIGNMENT
FC Tucson won the Desert Conference last year and is unbeaten in its last 13 matches, going 11-0-2 since losing to Albuquerque FC in 2019.
The club has finished first in its division five times since its inception in 2013, advancing to the playoffs in 2013 and '18 while missing out due to a tiebreaker in 2015 and '19.
The season was cancelled in 2020, and WPSL did not hold a postseason in 2021 due to COVID-19.
More information regarding season tickets and single-game tickets will be announced in the coming weeks.