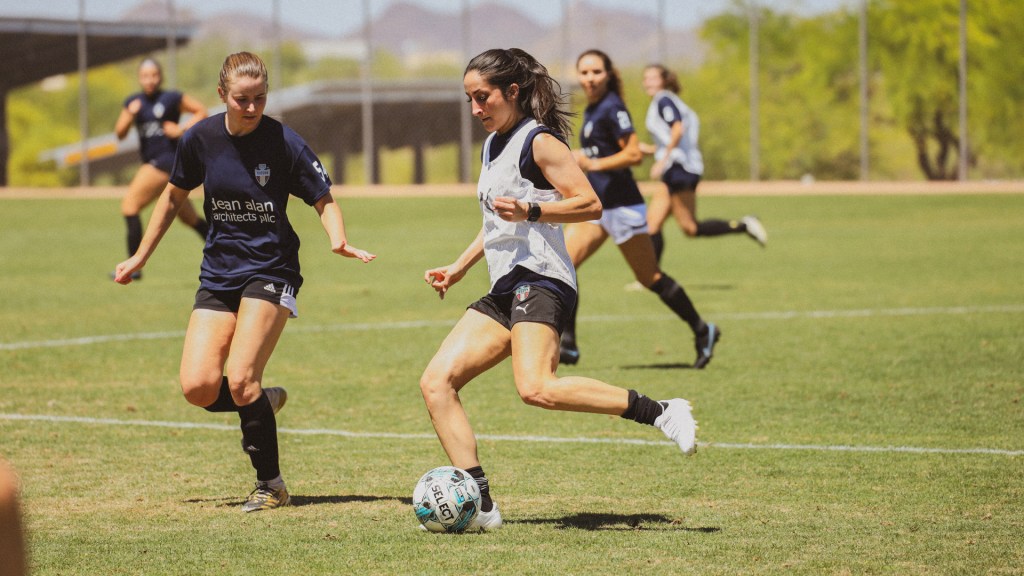 As Kelly Pierce looked over the Kino North field Sunday morning, it was hard not to like what she saw.
The head coach of the defending Women's Premier Soccer League Desert Conference champions is tasked with refilling the roster to chase another title. With the season opener looming at the end of the month, FC Tucson held an open trial to provide an opportunity for talented players across Arizona – and beyond – to join the legacy the club has built over the years.
As Pierce and her coaching staff looked on, more than 40 players took part in the two-hour session.
"We have a lot of returning faces, which is always good for us, but a lot of new faces," said Pierce. "Having all these new girls come in – from Flagstaff, Phoenix and all over Tucson – it's good to have new faces out here. It's growing, which is always a positive."
Thanks to sponsorship from All Sports Tucson, the entry fee was waived for all participants. The players received a trial shirt as well as a ticket to an FC Tucson women's home game this season for attending.
There were a number of returning players as well who took part in the trials, which allowed new players to measure themselves and gave Pierce an opportunity to see all the players together. Among those on the field were sisters Laura and Priscilla Pimienta, who were All-WSPL Desert Conference all-stars last season.
The trials are just the first step. Next comes practice, which begins Tuesday, and the process of integrating the new players Pierce selects with the veterans. Laura Pimienta, who has previous experience as captain, talked about how important the next step is.
"Every year at trials, and even the first few practices, you're getting to know each other," said Laura Pimienta. "It's a little chaotic and not as clean as you want it to look. We have our goal in mind and where we're trying to get and as long as the leaders are pushing that out and getting everyone on board, at the end of the day, we'll be successful."
FC Tucson's first match is May 28 at the El Paso Surf. The first home game is Friday, June 3, against El Paso at Kino North Stadium (buy tickets). The season's eight games will be completed by July 9.
In addition to being defending champions, FC Tucson is unbeaten in its last 12 matches (10-0-2) dating back to June of 2019. The 2020 season was cancelled and the 2021 season did not have a postseason. FC Tucson reached the postseason in 2013 and 2018, just missing out in 2015 and 2019 on tiebreakers.
Having the consistent level of success as well as the commitment by FC Tucson to the women's team, Pierce noted, is what produces such a great turnout like Sunday.
"It always sets the bar high, and the tone," said Pierce. "It sets such a good environment for these younger girls.
"It goes to this entire program. The way everything is run here is so professional; that makes people want to come back and bring a friend or two."