Your defending Women's Premier League Desert Conference champions are ready to defend their crown.
FC Tucson will feature in Women's Premier Soccer League's (WPSL) Desert Conference facing off against three other returning teams (El Paso Surf, Atomic City FC and SC del Sol) and newcomer Arizona Arsenal Soccer Club.
Arizona Arsenal SC is among 29 expansion teams joining the WPSL this year, which traces its lineage back to 1998. The WPSL playoffs return this season after the season was cancelled in 2020 and the league did not hold a postseason in 2021.
The winner of the Desert Conference will advance to the West Region semifinals; the winners of the four regions will then play for the national championship.
FC Tucson won the Desert Conference last year and is unbeaten in its last 13 matches, going 11-0-2 since losing to Albuquerque FC in June of 2019.
While Luz Duarte is taking her club-record 12 goals from a year ago to play professionally for Mexico City's PUMAS UNAM in LIGA BBVA MX Femenil, the good news is this team could have even more talent than the one that went 7-0-1 last year.
One of the biggest reasons is Kelly Pierce.
The Tucson native was a four-year starter at Salpointe Catholic High School, where she won a pair of state titles. She became an assistant at FC Tucson to highly-successful head coach Amy Garelick in 2017, and succeeded her in 2019, when she earned Desert Division Coach of the Year.
At Salpointe, Pierce has coached the team to four 4A state championships. She was named Arizona Republic's All-Arizona Coach of the Year across all classes this past season after winning her most recent title.
And Pierce has plenty of talent on the field for FC Tucson this season.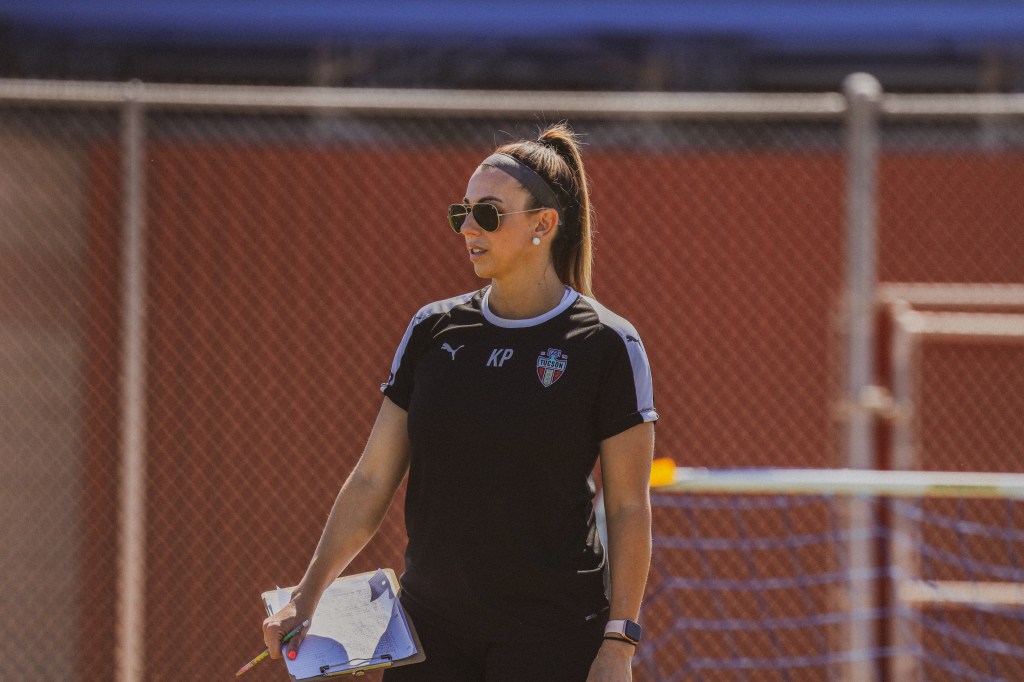 Some notable names to watch for this year:
Ashly Martinez
The Coahuila, Mexico, native has been selected to the U15 and U17 Mexico National Team, and represented her country in the CONCACAF tournament in Orlando, Florida. The midfielder played for Club Santos Laguna in LIGA BBVA MX Femenil during its 2019-20 Apertura season, scoring three goals in 11 appearances. Injury sidelined her for the ensuing Clausura, but she has bounced back strongly. She is attending Arizona Western College, which is coming off its first NJCAA Division I Region I championship.
Hope Hisey
The starting goalkeeper for University of Arizona, Hisey led the Pac12 in saves last year. She had three shutouts and allowed just five goals over her six games in goal for FC Tucson last year and earned the WPSL Desert Region Goalkeeper of the Year.
Haley Harris
The Tucson native returns for her second season with FC Tucson, where she emerged as starting defensive midfielder last season. Harris is a sophomore studying Global Security and Intelligence at Embry-Riddle Aeronautical University in Prescott. She was named Coaches' All-American Second Team after helping the Eagles qualify for the NAIA national tournament this past season.
Laura and Priscilla Pimienta
Laura Pimienta is a former University of Arizona star, and is FC Tucson's team captain and starting center back. She was the 2021 WPSL Desert Conference Defender of the Year. Her twin sister, Priscilla, also went to Arizona and played every minute last year for FC Tucson as a defender.
Trinity Morales
Morales graduated from Salpointe Catholic High School after leading the Lancers to consecutive state championships. The 18-year-old earned Arizona 4A Player of the Year and All-Conference first team honors this past season. She was also named 4A Offensive Player of the Year in 2021. Morales attended the U-19 U.S. Virtual National Camp in 2021, and recently signed a letter of intent to continue her soccer career at the University of Oregon.
Kourney Kutscher
Kutscher was a key figure in the midfield on last year's undefeated team. The two-time Big West Conference honoree while at Cal State Northridge, Kuschner made the cut in 2017 to join the preseason roster for the Chicago Red Stars of the National Women's Soccer League. The Temecula, California, native also played for the Swedish club IFK Västerås.
Kate Connelly
The Tucson native earned second-team all-region honors in 2017-18 and played for Salpointe Cathlic, where she was a key player for three state title teams. She has continued her playing career at Seattle University, playing in 14 matches this past season with a goal and an assist. She will join the FC Tucson team as a starting center back after the home opener due to her college commitments.
Meredith Scott
From Sahuarita, Scott piled up 47 goals and 23 in 16 games as a senior for Walden Grove High School. The Red Wolves fell to Kelly Pierce's Salpointe Catholic in the 4A semifinals 4-2 on penalty kicks after playing to a 2-2 draw; Scott had both goals for Walden Grove and converted her PK. She was named to the Arizona Republic's 2022 All-Arizona team. This is her first year with FC Tucson. Scott will attend Pima County Community College, which is coming off a NJCAA Division II National Championship appearance.
FC Tucson will open the season against El Paso Surf in the Lone Star State. El Paso is a Southern Texas youth organization that is part of Surf Select, which has various clubs across the country. Atomic City FC, SC del Sol and Arizona Arsenal all field girls and boys ranging from U-7 to U-19. FC Tucson is the only independent team in the conference.
FC Tucson heads to Kino North Stadium for its home opener on June 3 against El Paso Surf. Tickets are only $10.