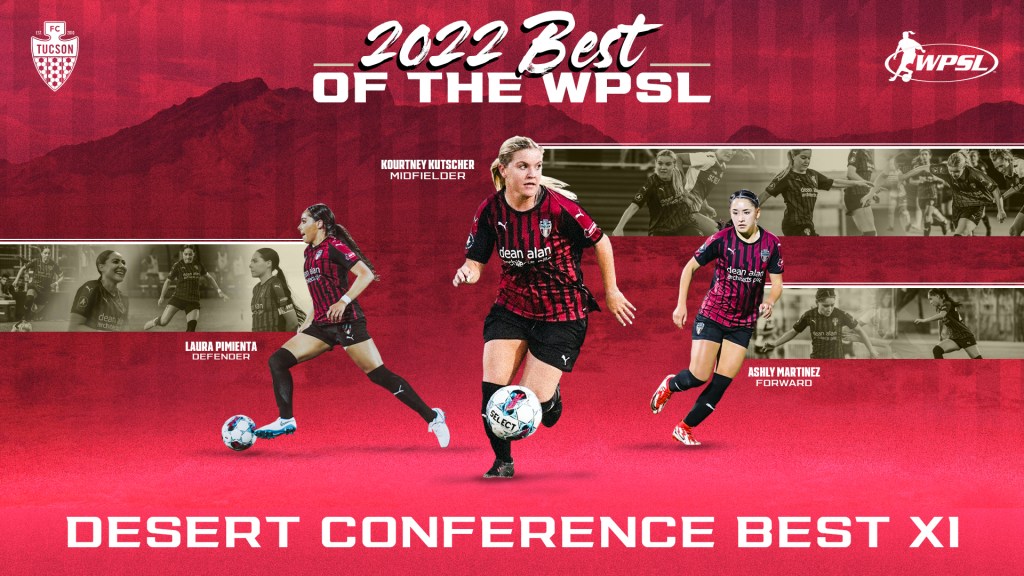 Team Most Valuable Player Kourtney Kutscher was joined by Laura Pimienta and Ashly Martinez on the Desert Conference Best XI announced by the Women's Premier Soccer League this week.
Kutscher helped power FC Tucson to a 3-1-3 record, and her performance on both offense and defense earned her the team's top honor.
Laura Pimienta was selected to the all-star team for the second season in a row. The team's defender of the year, Pimienta also led FC Tucson in assists.
First year player Ashly Martinez, FC Tucson's offensive player of the year, was selected to the all-conference team as a forward.
In addition, FC Tucson was honored Tuesday evening by the City of Tucson. Tucson mayor Regina Romero presented head coach Kelly Pierce and several of her players the proclamation that August 23, 2022, was FC Tucson Women's Day.
Today, I proclaimed August 23rd @fctucsonwomen's Day! The talented squad of #FCTucsonWomen consistently go on to professional careers and are an inspiration for #Tucson youth. ⚽️🌵 pic.twitter.com/U5nHZ2m5rU

— Regina Romero (@TucsonRomero) August 24, 2022
Today is officially:
𝐅𝐂 𝐓𝐔𝐂𝐒𝐎𝐍 𝐖𝐎𝐌𝐄𝐍'𝐒 𝐃𝐀𝐘#fuerzatucson 🌵 pic.twitter.com/LlzOopU3pN

— FC Tucson (@FCTucson) August 24, 2022