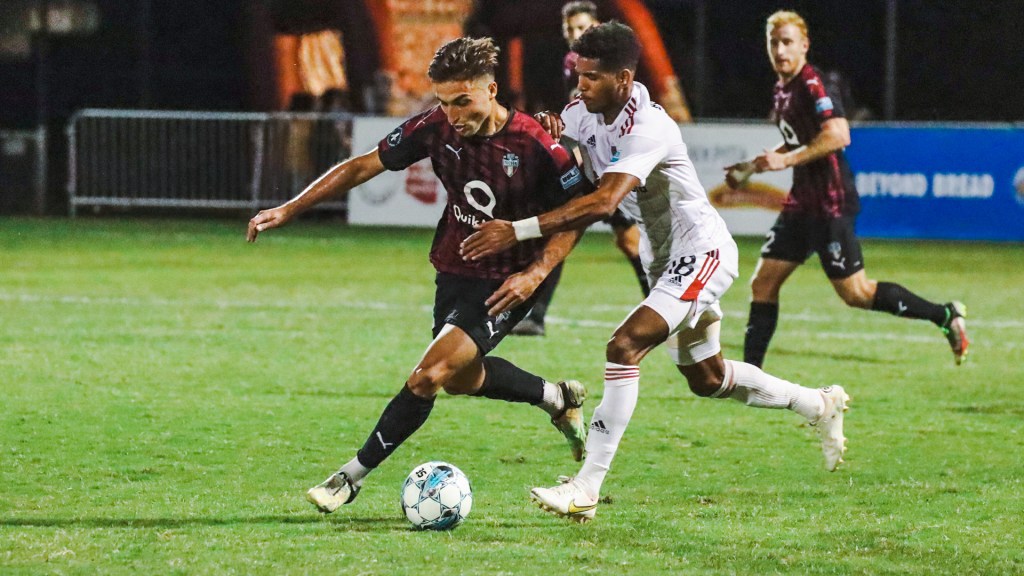 There's something about FC Tucson in the fall.
Tucson continued its late-season surge for the second consecutive season with a 2-1 win over Chattanooga Red Wolves SC at Kino North Stadium on Saturday night. The win closed out September on a 4-0-1 run for Tucson and kept its USL League One playoff hopes alive heading into the final three weeks of the season.
Last year, FC Tucson was 3-0-2 in September as part of a 7-2-3 close to the season that say the club earn its first professional playoff berth.
Daniel Bedoya and Kaelon Fox assured Tucson stayed in the hunt for a second straight postseason spot and completed a three-match sweep of the Red Wolves.
A foul in the box led to FC Tucson's first goal of the night. Midfielder Daniel Bedoya stepped up to the spot and slotted to Chattanooga keeper Carlos Avilez's right for his second goal of the season.
COOL. AS. ICE.

Bedoya puts it in the back of the net.#fuerzatucson 🌵 | #TUCvCHA pic.twitter.com/p1YP5ShMyd

— FC Tucson (@FCTucson) September 25, 2022
Just five minutes later, the Red Wolves tied it up on a penalty shot of their own. Midfielder Ernesto Espinoza converted from the spot.
FC Tucson came out charging again in the second half and quickly found the game winner thanks to a series of excellent passes.
Donny Toia won the ball on the far left side in the Chattanooga half, he spotted Bedoya and pushed the ball to the middle of the field. Bedoya then cut it across to Calixtro, who took a juggling touch and then found Fox cutting down the far right. The FC Tucson defender then rocketed a ball underneath Avilez to make it 2-1 in the 48th minute. It was Fox's second goal of the year.
You pay when you sleep on 🦊 sprinting down the wing!!!

What a strike by Our Captain!#fuerzatucson 🌵 | @KaelonFox pic.twitter.com/wa4KmzCtOq

— FC Tucson (@FCTucson) September 25, 2022
FC Tucson will
QUOTES
"I had a really good chance from either Jake or Tarn, I can't remember, in the first half — it was a header back post that I hit over the bar; it was a sitter and I missed it. I said, I've got to score the next one. Second half comes around, Gio (Calixtro) gets a great ball, he's one on one, unselfishly passes it to me, easy ball. I just hit it as hard as I can and it goes in the back of the net." – FC Tucson's Kaelon Fox on his game-winning goal
"We're just in really good form. Everybody believes in each other, everyone is working for each other, everyone is dying for each other. We're a team. And I think that's why we're so good in September." – Fox
"I'm just so proud of them. Legs are heavy; a lot of games in a row. The ask was come off of a tough North Carolina win and, a few days later, against one of the top four teams in the league. And we did it." — FC Tucson head coach Jon Pearlman
FC Tucson hit the road to face Greenville Triumph SC on Saturday, Oct. 1, at Triumph Stadium at Legacy Early College. Kickoff is set for 4 p.m. The Watch Party will be at American Eats Co. following the Hero Cup presented by CORE Construction between Tucson Police Department and Tucson Fire Department at Kino Grandstand (DONATE TO CANDLELIGHTERS CHILDHOOD CANCER FOUNDATION OF SOUTHERN ARIZONA).
Tucson returns to Kino North on Wednesday, Oct. 5, for its penultimate home match of the season. The Western Clasico against Central Valley Fuego will be Southern Arizona Heritage Night presented by Tucson Orthopaedic Institute. (BUY TICKETS).