Another coaching change — this time with Pima Community College men's coach Dave Cosgrove taking over for Pearlman — didn't stop the string of success for FC Tucson.
The club, paced by Damian German's 11 goals, went 7-3-4 to finish second in the Premier Development League's Mountain Division. In its fifth-straight postseason appearance, the club reached the Western Conference final for the fourth time.
Defender Henry Lander was named to the All-Western Conference team.
The season was the 24th and final under the PDL banner; on Feb. 6, 2018, FC Tucson was the second team to join the to join the USL Division III (now USL League One) League, becoming a professional club.
DATE
OPPONENT
SITE
LEAGUE
ROUND
SCORE
RESULT
RECORD
Sat., May 12
Albuquerque Sol FC
Kino North Stadium, Tucson, Arizona
PDL
Regular Season
2-1
W
1-0-0
Fri., May 25
Ogden City SC
Spence Eccles Ogden Sports Complex
PDL
Regular Season
0-1
L
1-1-0
Sat., May 26
Ogden City SC
Spence Eccles Ogden Sports Complex
PDL
Regular Season
2-1
W
2-1-0
Fri., June 1
Ogden City SC
Kino North Stadium, Tucson, Arizona
PDL
Regular Season
3-0
W
3-1-0
Sat., June 2
Ogden City SC
Kino North Stadium, Tucson, Arizona
PDL
Regular Season
1-2
L
3-2-0
Fri., June 8
Colorado Pride Switchbacks U23
Kino North Stadium, Tucson, Arizona
PDL
Regular Season
5-0
W
4-2-0
Sat., June 9
Colorado Pride Switchbacks U23
Kino North Stadium, Tucson, Arizona
PDL
Regular Season
1-0
W
5-2-0
Fri., June 15
Albuquerque Sol FC
University of New Mexico
PDL
Regular Season
2-4
L
5-3-0
Sun., June 17
Colorado Rapids U23
Kino North Stadium, Tucson, Arizona
PDL
Regular Season
1-1
T
5-3-1
Mon., July 3
Albuquerque Sol FC
Kino North Stadium, Tucson, Arizona
PDL
Regular Season
2-2
T
5-3-2
Sat., July 7
Albuquerque Sol FC
Ben Rios Field at St Pius X High School, Albuquerque, New Mexico
PDL
Regular Season
3-3
T
5-3-3
Wed., July 11
Colorado Rapids U23
Dick's Sporting Goods Park Field 20
PDL
Regular Season
2-2
T
5-3-4
Fri., July 13
Colorado Pride Switchbacks U23
Colorado College
PDL
Regular Season
2-1
W
6-3-4
Sat., July 14
Colorado Pride Switchbacks U23
Weidner Stadium
PDL
Regular Season
3-1
W
7-3-4
Fri., July 20
FC Golden State Force
Rio Hondo College, North Whittier, California
PDL
Conference Semifinals
2-2 (3-1 PKs)
W
Sat., July 21
Calgary Foothills FC
Rio Hondo College, North Whittier, California
PDL
Conference Finals
0-2
L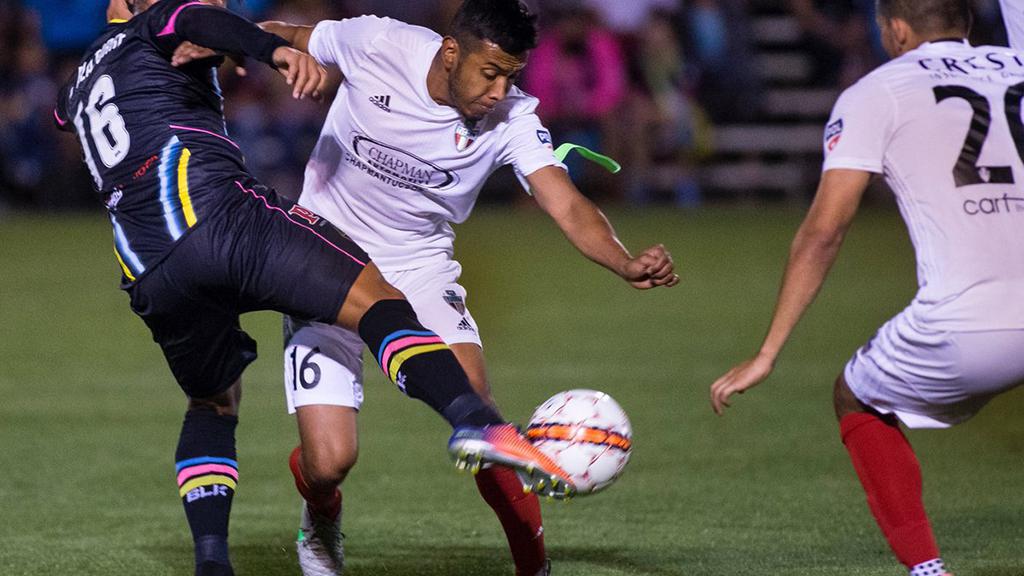 PLAYER STATISTICS
INDIVIDUAL
| # | NAME | GP | MIN | G | A | SH | YC | RC |
| --- | --- | --- | --- | --- | --- | --- | --- | --- |
| 11 | Damian German | 12 | 981 | 11 | 4 | 32 | 3 | 0 |
| 4 | Alejandro Gonzalez | 12 | 584 | 3 | 1 | 4 | 1 | 0 |
| 15 | Adrian Valenzuela | 9 | 682 | 2 | 3 | 7 | 0 | 0 |
| 10 | Dalton Pando | 14 | 846 | 2 | 1 | 20 | 2 | 0 |
| 7 | Angel Rey Heredia | 11 | 783 | 2 | 4 | 6 | 2 | 0 |
| 9 | Daisuke Takanaka | 9 | 376 | 2 | 1 | 3 | 0 | 0 |
| 17 | Adeola Oke | 7 | 306 | 2 | 0 | 3 | 3 | 0 |
| | Julian Gaona | 7 | 340 | 1 | 1 | 9 | 0 | 0 |
| 3 | James Mcghee | 11 | 958 | 1 | 0 | 1 | 0 | 0 |
| 14 | Kyle VanAlstine | 12 | 590 | 1 | 0 | 1 | 4 | 0 |
| 5 | Gavino Carranza | 13 | 910 | 1 | 2 | 4 | 0 | 0 |
| 16 | Miguel Salazar | 14 | 1196 | 1 | 2 | 3 | 4 | 0 |
| | Adrian Martinez | 4 | 107 | 0 | 0 | 2 | 0 | 0 |
| 22 | Kevin Perez | 6 | 213 | 0 | 0 | 0 | 0 | 0 |
| | Jason Romero | 4 | 283 | 0 | 0 | 5 | 0 | 0 |
| | Tate Schmitt | 5 | 309 | 0 | 0 | 6 | 0 | 0 |
| | Francisco Vazquez | 3 | 131 | 0 | 0 | 0 | 0 | 0 |
| | Sean Keith | 1 | 59 | 0 | 0 | 0 | 0 | 0 |
| 2 | Henry Lander | 13 | 1012 | 0 | 0 | 2 | 0 | 0 |
| | Andreu Cases | 2 | 180 | 0 | 0 | 0 | 0 | 0 |
| | Amr Mokhtar | 3 | 269 | 0 | 0 | 1 | 0 | 0 |
| 19 | Isaias German | 9 | 121 | 0 | 0 | 0 | 3 | 0 |
| | Wedner Delmonte | 2 | 56 | 0 | 0 | 1 | 0 | 0 |
| 26 | Briley Guarnari | 1 | 90 | 0 | 0 | 0 | 0 | 0 |
| 8 | Ryan Scarpulla | 13 | 825 | 0 | 0 | 0 | 1 | 0 |
| | Mark Morris | 1 | 12 | 0 | 0 | 0 | 0 | 0 |
| 6 | Jose Ortiz Teran | 12 | 411 | 0 | 1 | 1 | 1 | 0 |
| | Adam Spinks | 4 | 210 | 0 | 0 | 0 | 1 | 0 |
| | Diego Silva | 2 | 62 | 0 | 2 | 1 | 0 | 0 |
| | Muhammed Sanyang | 1 | 13 | 0 | 0 | 0 | 0 | 0 |
| | Yuki Tatsuma | 1 | 17 | 0 | 0 | 0 | 0 | 0 |
| 18 | Shawn Spitzer | 2 | 0 | 0 | 0 | 0 | 0 | 0 |
| | Ryosuke Hitayama | 1 | 59 | 0 | 0 | 0 | 0 | 0 |
GOALKEEPING
| # | NAME | GP | MIN | GA | SV | YC | RC | SV% | GAA |
| --- | --- | --- | --- | --- | --- | --- | --- | --- | --- |
| 18 | Shawn Spitzer | 3 | 0 | 0 | 0 | 0 | 0 | 0 | 0 |
| | Andreu Cases | 7 | 636 | 8 | 30 | 0 | 0 | 0.789 | 1.13 |
| 26 | Briley Guarnari | 7 | 635 | 11 | 21 | 2 | 0 | 0.656 | 1.56 |