The 2013 season brought a new competition and new success for FC Tucson.
In its inaugural foray into the Lamar Hunt U.S. Open Cup, the club reached the third round after upset wins over two USL Pro (now Championship) teams. Connor Bevens scored the injury-time game winner against Phoenix FC, and Tucson advanced past San Antonio Scorpions of the NASL on penalty kicks. The run ended against Major League Soccer's Houston Dynamo, but not before the club earned $15,000 prize money as the USL Premier Development League (PDL) club with the best Open Cup finish.
FC Tucson finished 10-6-4 overall and 5-5-4 in the PDL Southwest Division, the only season the club did not make the PDL playoffs.
The club wrapped up the season in dramatic fashion, though. In an exhibition match that christened Kino North Stadium on Nov. 15, FC Tucson defeated MLS club Chivas USA with 17-year-old Sadam Ali scoring in the 89th minute for the only goal.
| DATE | OPPONENT | SITE | LEAGUE | ROUND | SCORE | RESULT | RECORD |
| --- | --- | --- | --- | --- | --- | --- | --- |
| Sun., May 12 | Los Angeles Misioneros | Los Angeles, California | PDL | Regular Season | 1-1 | T | 0-0-1 |
| Sat., May 18 | Southern California Seahorses | Kino Sports Complex North Field No. 5 | PDL | Regular Season | 3-1 | W | 1-0-1 |
| Sat., May 25 | Ventura County Fusion | Ventura College, Ventura, California | PDL | Regular Season | 1-2 | L | 1-1-1 |
| Wed., May 26 | OC Blues Strikers FC | Edison High School, Huntington Beach, California | PDL | Regular Season | 1-1 | T | 1-1-2 |
| Sat., June 1 | Southern California Seahorses | Al Barbour Field, La Mirada, California | PDL | Regular Season | 1-1 | T | 1-1-3 |
| Thur., June 6 | OC Blues Strikers FC | Kino Sports Complex North Field No. 5 | PDL | Regular Season | 9-1 | W | 2-1-3 |
| Sat., June 8 | Fresno Fuegos | Kino Sports Complex North Field No. 5 | PDL | Regular Season | 0-1 | L | 2-2-3 |
| Tues., June 11 | Southern California Seahorses | Al Barbour Field, La Mirada, California | PDL | Regular Season | 5-1 | W | 3-2-3 |
| Sat., June 22 | Fresno Fuegos | Chukchansi Park, Fresno, California | PDL | Regular Season | 1-3 | L | 3-3-3 |
| Fri., June 28 | Ventura County Fusion | Kino Sports Complex North Field No. 5 | PDL | Regular Season | 2-0 | W | 4-3-3 |
| Sun., June 30 | Ventura County Fusion | Kino Sports Complex North Field No. 5 | PDL | Regular Season | 1-1 | T | 4-3-4 |
| Thur., July 4 | BYU Cougars | BYU South Field, Provo, Utah | PDL | Regular Season | 2-3 | L | 4-4-4 |
| Sun., July 14 | Los Angeles Misioneros | Kino Sports Complex North Field No. 5 | PDL | Regular Season | 4-0 | W | 5-4-4 |
| Sat., July 20 | BYU Cougars | Kino Sports Complex North Field No. 5 | PDL | Regular Season | 0-1 | L | 5-5-4 |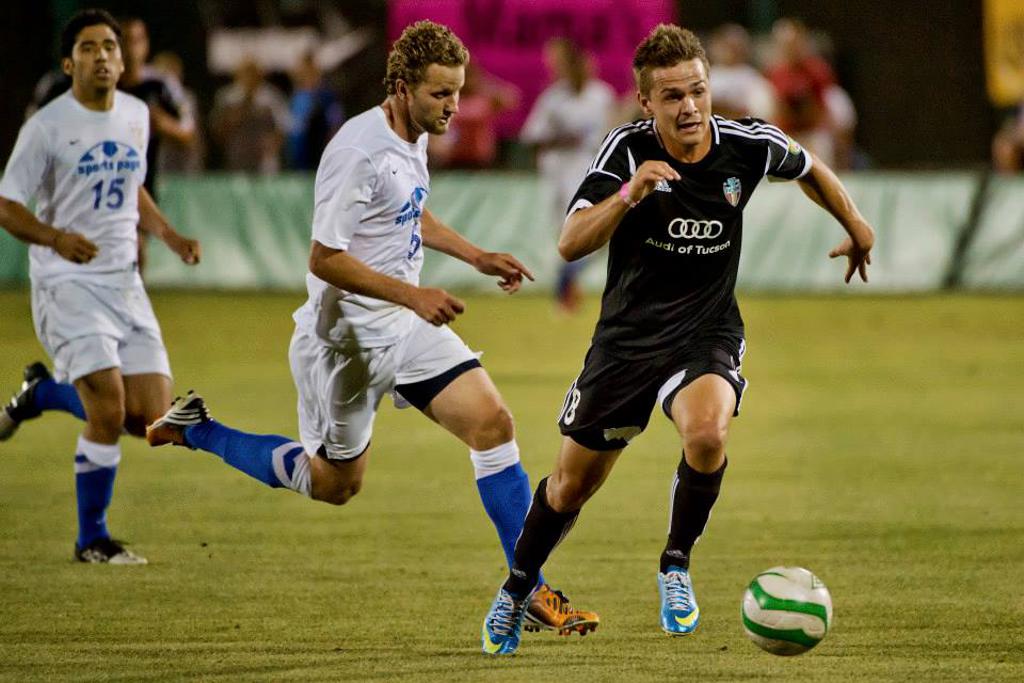 PLAYER STATISTICS
INDIVIDUAL
| # | NAME | GP | MIN | G | A | SH | FOULS |
| --- | --- | --- | --- | --- | --- | --- | --- |
| 23 | David Clemens | 13 | 834 | 5 | 1 | 18 | 16 |
| 14 | Dakota Collins | 13 | 943 | 3 | 2 | 22 | 6 |
| 5 | Saeed Robinson | 13 | 542 | 2 | 2 | 16 | 8 |
| 19 | Tim Harbison | 13 | 1119 | 0 | 0 | 0 | 5 |
| 17 | Edgar Reyna | 13 | 1139 | 0 | 0 | 3 | 9 |
| 9 | Ricardo Velazco | 12 | 917 | 4 | 2 | 33 | 12 |
| 25 | Gabriel Silveira | 11 | 729 | 5 | 1 | 7 | 6 |
| 11 | Connor Brandt | 11 | 626 | 2 | 3 | 7 | 9 |
| 13 | Elijah Galbraith-Knapp | 11 | 771 | 1 | 0 | 9 | 11 |
| 6 | Travis Campbell | 11 | 985 | 0 | 1 | 3 | 12 |
| 15 | Stephen Posa | 11 | 377 | 0 | 0 | 4 | 6 |
| 8 | Conner Bevans | 9 | 283 | 2 | 0 | 5 | 3 |
| 21 | Greg Carter | 9 | 810 | 0 | 0 | 1 | 5 |
| 16 | Isaac Ikyurav | 8 | 491 | 2 | 0 | 9 | 10 |
| 18 | Dallas Jaye | 7 | 630 | 0 | 0 | 0 | 0 |
| 10 | Aaron Long | 6 | 294 | 2 | 1 | 1 | 2 |
| 0 | Michael D'Arrigo | 6 | 540 | 0 | 0 | 0 | 0 |
| 4 | Ivan Garcia | 6 | 317 | 0 | 0 | 0 | 2 |
| 24 | Ryan Felix | 5 | 137 | 1 | 0 | 2 | 1 |
| 12 | Max Ornstil | 5 | 363 | 1 | 0 | 2 | 3 |
| 7 | Carlos Montes | 5 | 196 | 0 | 0 | 3 | 1 |
| 22 | Kevin Gould | 4 | 177 | 0 | 0 | 0 | 1 |
| 3 | Malcolm Alugas | 3 | 104 | 0 | 0 | 0 | 0 |
| 2 | Matthew Escobar | 3 | 256 | 0 | 0 | 0 | 3 |
| 2 | Mitchell Garcia | 1 | 30 | 0 | 0 | 0 | 0 |
| 20 | James Huffer | 1 | 11 | 0 | 0 | 2 | 4 |
| 3 | Conor Spence | 1 | 38 | 0 | 0 | 0 | 0 |
| 1 | Billy Thompson | 1 | 90 | 0 | 0 | 0 | 0 |
| 12 | Andrew Villalobos | 1 | 32 | 0 | 0 | 1 | 0 |
| 7 | Tyler Wilson | 1 | 45 | 0 | 0 | 0 | 0 |
| 20 | Brandon Zimmerman | 1 | 90 | 0 | 0 | 0 | 0 |
| # | NAME | GP | MIN | GA | SV | SV% | GAA |
| --- | --- | --- | --- | --- | --- | --- | --- |
| 0 | Michael D'Arrigo | 6 | 540 | 10 | 25 | 71.4% | 1.67 |
| 18 | Dallas Jaye | 7 | 630 | 6 | 32 | 84.2% | 0.86 |
| 1 | Billy Thompson | 1 | 90 | 1 | 0 | 0.0% | 1.00 |