In the first of three consecutive seasons FC Tucson made the PDL Western Conference final, defense reigned supreme.
FC Tucson allowed just 11 league goals and managed seven shutouts in league play.
On July 4, a then-record crowd of 2,983 watched the club clinch the PDL Mountain Division title with a 1-0 win over Albuquerque Sol FC at Kino North Stadium. The victory also gave the team the first Golden Rattler Trophy in the rivarly. Two weeks later, the club picked up its first playoff win. A first home postseason win followed thanks to a stoppage-time game winner from Juan Sebastian De Rada, before FC Tucson fell in the conference final.
Team captain Ricardo Velazco, a midfielder, was named PDL Young (U21) Player of the Year, and Billy Thompson was named PDL Goalkeeper of the Year. Both players were named to the All-League and All-Western Conference Teams.
DATE
OPPONENT
SITE
LEAGUE
ROUND
SCORE
RESULT
RECORD
Thur., May 8
BYU Cougars
BYU South Field, Provo, Utah
PDL
Regular Season
2-3
L
0-1-0
Sat., May 10
Las Vegas Mobsters
Peter Johann Soccer Field, Paradise, Nevada
PDL
Regular Season
2-1
W
1-1-0
Sat., May 17
Orange County II
Kino North Stadium, Tucson, Arizona
PDL
Regular Season
7-0
W
2-1-0
Sat., May 24
Real Colorado Foxes
Shea Stadium, Highlands Ranch, Colorado
PDL
Regular Season
3-1
W
3-1-0
Wed., May 28
BYU Cougars
Kino North Stadium, Tucson, Arizona
PDL
Regular Season
2-0
W
4-1-0
Sat., May 31
Southern California Seahorses
Kino North Stadium, Tucson, Arizona
PDL
Regular Season
4-0
W
5-1-0
Fri., June 6
Albuquerque Sol FC
Ben Rios Field at St Pius X High School, Albuquerque, New Mexico
PDL
Regular Season
1-1
T
5-1-1
Sat., June 7
Albuquerque Sol FC
Ben Rios Field at St Pius X High School, Albuquerque, New Mexico
PDL
Regular Season
3-0
W
6-1-1
Sat., June 14
Las Vegas Mobsters
Kino North Stadium, Tucson, Arizona
PDL
Regular Season
2-0
W
7-1-1
Sat., June 21
Ventura County Fusion
Kino North Stadium, Tucson, Arizona
PDL
Regular Season
1-2
L
7-2-1
Thur., June 26
Southern California Seahorses
Al Barbour Field, La Mirada, California
PDL
Regular Season
2-1
W
8-2-1
Sat., June 28
Orange County II
Vanguard University Stadium
PDL
Regular Season
3-2
W
9-2-1
Fri., July 4
Albuquerque Sol FC
Kino North Stadium, Tucson, Arizona
PDL
Regular Season
1-0
W
10-2-1
Sat., July 12
Real Colorado Foxes
Kino North Stadium, Tucson, Arizona
PDL
Regular Season
2-0
W
11-2-1
Sat., July 19
Los Angeles Misioneros
Peter Johann Soccer Field, Paradise, Nevada
PDL
Western Conference Quarterfinal
2-1
W
Fri., July 25
Vancouver Whitecaps FC U23
Kino North Stadium, Tucson, Arizona
PDL
Western Conference Semifinal
1-0
W
Sat., July 26
Kitsap Pumas
Kino North Stadium, Tucson, Arizona
PDL
Western Conference Final
0-3
L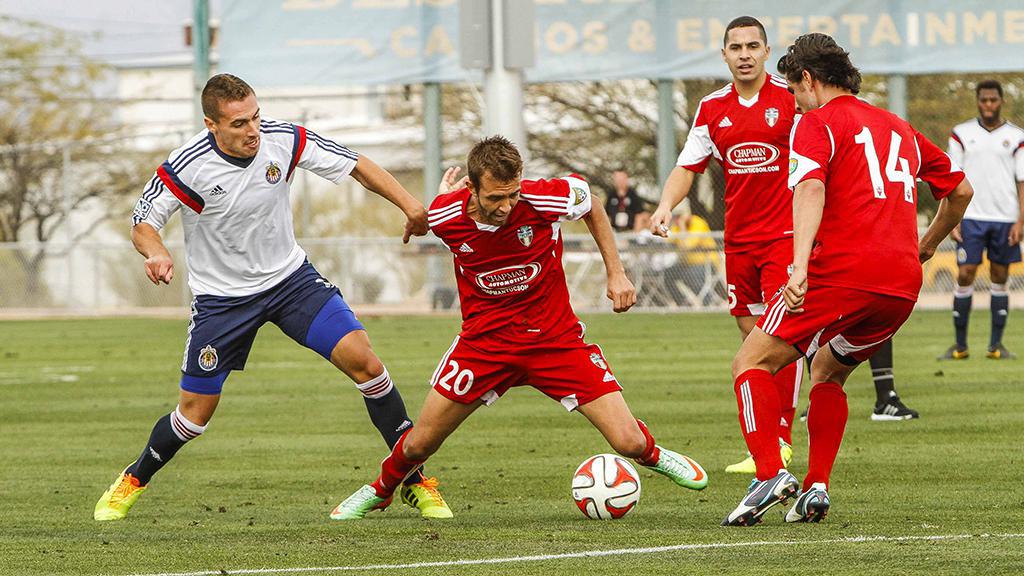 PLAYER STATISTICS
INDIVIDUAL
| # | NAME | GP | MIN | G | A | SH | FOULS |
| --- | --- | --- | --- | --- | --- | --- | --- |
| 9 | Ricardo Velazco | 14 | 1100 | 7 | 4 | 24 | 18 |
| 3 | Odaine Sinclair | 13 | 973 | 6 | 5 | 21 | 12 |
| 1 | Billy Thompson | 13 | 1080 | 0 | 0 | 0 | 0 |
| 6 | Austin Ledbetter | 12 | 836 | 1 | 1 | 6 | 10 |
| 24 | Ryan Felix | 12 | 641 | 0 | 0 | 1 | 3 |
| 19 | Tim Harbison | 12 | 1040 | 0 | 0 | 3 | 6 |
| 17 | Edgar Reyna | 12 | 849 | 0 | 0 | 5 | 8 |
| 11 | Connor Brandt | 11 | 879 | 6 | 0 | 15 | 7 |
| 12 | Sebastian De Rada | 11 | 679 | 1 | 3 | 14 | 9 |
| 7 | Thomas Ramos | 10 | 401 | 2 | 0 | 11 | 3 |
| 14 | Joshua Phillips | 10 | 642 | 0 | 1 | 3 | 1 |
| 14 | Clark Phillips | 9 | 404 | 4 | 1 | 12 | 3 |
| 23 | Vance Rookwood | 9 | 330 | 3 | 3 | 14 | 12 |
| 15 | Yaincy Gutierrez | 9 | 425 | 0 | 1 | 3 | 5 |
| 20 | Greg Carter | 8 | 690 | 0 | 0 | 1 | 6 |
| 4 | Michael DeGraffenreidt | 7 | 630 | 0 | 0 | 0 | 3 |
| 10 | Christian Volesky | 6 | 290 | 2 | 0 | 8 | 4 |
| 5 | Peter Kelly | 6 | 369 | 1 | 0 | 2 | 7 |
| 12 | Max Ornstil | 5 | 285 | 0 | 0 | 2 | 3 |
| 2 | Otis Earle | 5 | 213 | 0 | 0 | 1 | 1 |
| 21 | Daniel Antoniuk | 4 | 114 | 0 | 1 | 0 | 1 |
| 13 | Elijah Galbraith-Knapp | 4 | 215 | 0 | 1 | 0 | 2 |
| 20 | Riley McGovern | 4 | 125 | 0 | 0 | 1 | 0 |
| 8 | Andres Acosta | 4 | 208 | 0 | 0 | 0 | 1 |
| 16 | Trevor Morley | 2 | 110 | 1 | 0 | 1 | 1 |
| 25 | Santiago Velez | 2 | 12 | 0 | 0 | 0 | 0 |
| 22 | Martino Rapella | 2 | 112 | 0 | 0 | 2 | 1 |
| 0 | Justin Taillole | 2 | 56 | 0 | 0 | 0 | 0 |
| 18 | Dallas Jaye | 1 | 90 | 0 | 0 | 0 | 0 |
| 18 | Kendall McIntosh | 1 | 45 | 0 | 0 | 0 | 0 |
| 10 | Trevor Jackson | 1 | 7 | 0 | 0 | 0 | 0 |
| 7 | Jason Hackett | 1 | 16 | 0 | 0 | 0 | 0 |
GOALKEEPING
| # | NAME | GP | MIN | GA | SV | SV% | GAA |
| --- | --- | --- | --- | --- | --- | --- | --- |
| 18 | Dallas Jaye | 1 | 90 | 1 | 4 | 80% | 1.00 |
| 18 | Kendall McIntosh | 1 | 45 | 0 | 4 | 100% | 0.00 |
| 0 | Justin Taillole | 1 | 45 | 0 | 0 | | 0.00 |
| 1 | Billy Thompson | 13 | 1080 | 10 | 47 | 77% | 0.83 |