After a cold start to the 2021 USL League One season, the club turned on the heat and went from 11th in the league to fourth in the span of two months.
Head coach Jon Pearlman took over for John Galas in June and went 11-10-7 and finished fourth in the league. This secured a first ever professional playoff appearance making it to the semifinals.
Charlie Dennis lead the team with 10 goals, followed closely by Shak Adams and Deri Corfe with eight goals apiece.
DATE
OPPONENT
SITE
LEAGUE
ROUND
SCORE
RESULT
RECORD
2021-05-01
Tormenta FC
Statesboro, Georgia
USL League 1
Regular Season
1-3
L
0-1-0
2021-05-08
Forward Madison FC
Kino North Stadium, Tucson, Arizona
USL League 1
Regular Season
1-1
T
0-1-1
2021-05-16
Fort Lauderdale CF
Fort Lauderdale, Florida
USL League 1
Regular Season
1-5
L
0-2-1
2021-05-26
Toronto FC II
Casa Grande, Arizona
USL League 1
Regular Season
2-1
W
1-2-1
2021-05-29
North Carolina FC
Cary, North Carolina
USL League 1
Regular Season
2-1
W
2-2-1
2021-06-05
Toronto FC II
Kino North Stadium, Tucson, Arizona
USL League 1
Regular Season
1-1
T
2-2-2
2021-06-12
Chattanooga Red Wolves
Kino North Stadium, Tucson, Arizona
USL League 1
Regular Season
2-3
L
2-3-2
2021-06-19
North Texas SC
Arlington, Texas
USL League 1
Regular Season
0-0
T
2-3-3
2021-06-26
Union Omaha
Omaha, Nebraska
USL League 1
Regular Season
0-1
L
2-4-3
2021-07-03
Fort Lauderdale CF
Kino North Stadium, Tucson, Arizona
USL League 1
Regular Season
2-1
W
3-4-3
2021-07-10
Chattanooga Red Wolves SC
East Ridge, Tennessee
USL League 1
Regular Season
2-2
T
3-4-4
2021-07-17
New England Revolution II
Kino North Stadium, Tucson, Arizona
USL League 1
Regular Season
4-2
W
4-4-4
2021-07-24
Union Omaha
Kino North Stadium, Tucson, Arizona
USL League 1
Regular Season
1-2
L
4-5-4
2021-07-31
Richmond Kickers
Richmond, Virginia
USL League 1
Regular Season
0-1
L
4-6-4
2021-08-07
North Texas SC
Kino North Stadium, Tucson, Arizona
USL League 1
Regular Season
0-2
L
4-7-4
2021-08-14
Union Omaha
Kino North Stadium, Tucson, Arizona
USL League 1
Regular Season
0-1
L
4-8-4
2021-08-21
Fort Lauderdale CF
Fort Lauderdale, Florida
USL League 1
Regular Season
4-0
W
5-8-4
2021-08-28
Greenville Triumph SC
Kino North Stadium, Tucson, Arizona
USL League 1
Regular Season
2-1
W
6-8-4
2021-09-01
New England Revolution II
Foxborough, Massachusetts
USL League 1
Regular Season
2-1
W
7-8-4
2021-09-04
North Texas SC
Arlington, Texas
USL League 1
Regular Season
1-1
T
7-8-5
2021-09-11
Fort Lauderdale CF
Kino North Stadium, Tucson, Arizona
USL League 1
Regular Season
3-0
W
8-8-5
2021-09-19
Greenville Triumph SC
Greenville, South Carolina
USL League 1
Regular Season
3-3
T
8-8-6
2021-09-25
Union Omaha
Omaha, Nebraska
USL League 1
Regular Season
1-0
W
9-8-6
2021-10-02
North Texas SC
Kino North Stadium, Tucson, Arizona
USL League 1
Regular Season
0-2
L
9-9-6
2021-10-13
North Carolina FC
Kino North Stadium, Tucson, Arizona
USL League 1
Regular Season
0-2
L
9-10-6
2021-10-16
Tormenta FC
Kino North Stadium, Tucson, Arizona
USL League 1
Regular Season
3-1
W
10-10-6
2021-10-23
Forward Madison FC
Madison, Wisconsin
USL League 1
Regular Season
2-2
T
10-10-7
2021-10-30
Richmond Kickers
Kino North Stadium, Tucson, Arizona
USL League 1
Regular Season
4-2
W
11-10-7
2021-11-06
Richmond Kickers
Kino North Stadium, Tucson, Arizona
USL League 1
Quarterfinals
1-0
W
2021-11-13
Union Omaha
Omaha, Nebraska
USL League 1
Semifinals
1-6
L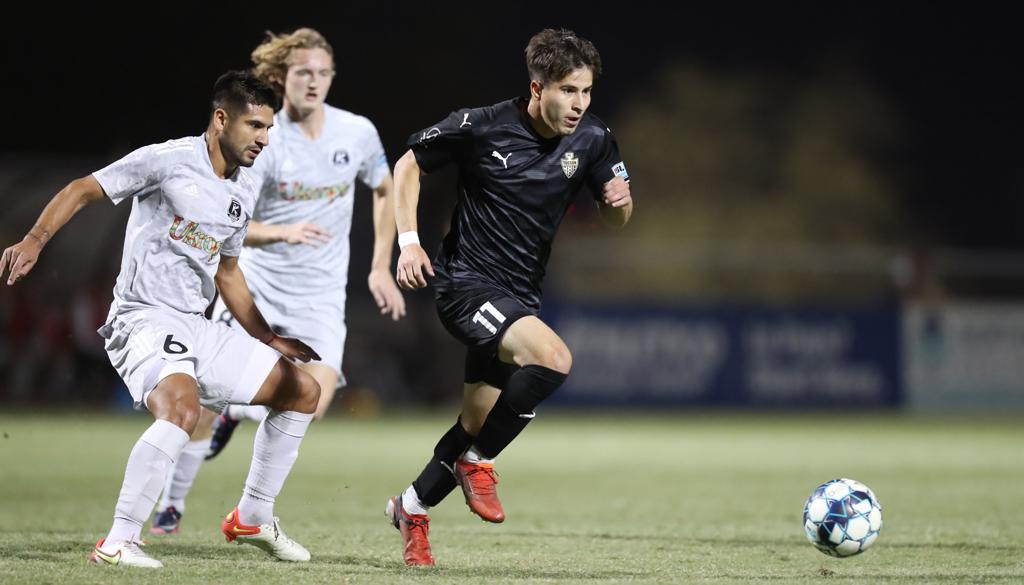 PLAYER STATISTICS
INDIVIDUAL
| # | NAME | GP | GS | MIN | G | A | YC | RC |
| --- | --- | --- | --- | --- | --- | --- | --- | --- |
| 3 | Alex Knox | 23 | 5 | 630 | 0 | 0 | 2 | 0 |
| 14 | Alioune Diakhate | 5 | 0 | 67 | 0 | 0 | 0 | 0 |
| 31 | Brandon Sanchez | 2 | 1 | 71 | 0 | 0 | 0 | 0 |
| 10 | Charlie Dennis | 27 | 24 | 2002 | 10 | 8 | 7 | 0 |
| 24 | Dakota Barnathan | 26 | 19 | 1654 | 0 | 0 | 2 | 1 |
| 8 | Daniel Bedoya | 29 | 17 | 1571 | 3 | 3 | 5 | 0 |
| 9 | Deri Corfe | 29 | 22 | 2008 | 8 | 2 | 5 | 0 |
| 37 | Franco Pérez | 9 | 2 | 227 | 0 | 0 | 1 | 1 |
| 14 | Gerard Lavergne | 1 | 0 | 12 | 0 | 0 | 0 | 0 |
| 91 | Giovanni Calixtro | 28 | 20 | 1681 | 4 | 4 | 3 | 1 |
| 42 | Jared Odenbeck | 7 | 4 | 308 | 0 | 0 | 0 | 0 |
| 20 | Joao Delgado | 24 | 17 | 1392 | 2 | 3 | 4 | 0 |
| 27 | Jordan Pena | 14 | 11 | 965 | 0 | 0 | 1 | 0 |
| 5 | Kaelon Fox | 29 | 26 | 2370 | 0 | 1 | 4 | 0 |
| 11 | Kevin Rodríguez | 19 | 7 | 680 | 3 | 1 | 1 | 0 |
| 4 | Luca Mastrantonio | 18 | 14 | 1275 | 2 | 0 | 4 | 0 |
| 23 | Luke Lawrence | 1 | 0 | 1 | 0 | 0 | 0 | 0 |
| 21 | Manuel Ferriol | 22 | 8 | 904 | 2 | 1 | 9 | 0 |
| 19 | Maximiliano Schenfeld | 26 | 26 | 2244 | 1 | 0 | 11 | 4 |
| 88 | Mohamed Kone | 15 | 14 | 1184 | 0 | 1 | 5 | 0 |
| 15 | Noah Franke | 28 | 28 | 2456 | 0 | 4 | 2 | 2 |
| 6 | Samuel Biek | 7 | 4 | 375 | 0 | 0 | 1 | 0 |
| 17 | Shak Adams | 28 | 21 | 1905 | 8 | 2 | 1 | 0 |
| 7 | Tobenna Uzo | 12 | 10 | 820 | 2 | 0 | 2 | 0 |
GOALKEEPING
| # | NAME | GP | MIN | GA | SV | YC | RC | SV% | GAA |
| --- | --- | --- | --- | --- | --- | --- | --- | --- | --- |
| 1 | Wallis Lapsley | 30 | 2700 | 48 | 91 | 0 | 0 | 65% | 0.69 |