The franchise took its biggest step in its history by turning professional, becoming one of 10 teams in the new USL League One.
In its first professional match, FC Tucson went on the road defeated Orlando City B, 3-1, behind a pair of goals from Guillermo Delgado.
Forward Jordan Jones scored 10 goals as FC Tucson played a greatly expanded schedule (28 games). Under head coach Darren Sawatzky, the club spent much of the season battling for a playoff spot before finishing 8-11-9.
Jones was named to the All-League Second Team, and forward Devyn Jambga was twice named Player of the Week. Goalkeeper Phillip Ejimadu earned USL League One's Save of the Year.
| DATE | OPPONENT | SITE | LEAGUE | ROUND | SCORE | RESULT | RECORD |
| --- | --- | --- | --- | --- | --- | --- | --- |
| Sat., March 30 | Orlando City B | Montverde, Florida | USL League 1 | Regular Season | 3-1 | W | 1-0-0 |
| Wed., April 3 | Tormenta FC | Statesboro, Georgia | USL League 1 | Regular Season | 1-3 | L | 1-1-0 |
| Sat., April 13 | Toronto FC II | Kino North Stadium, Tucson, Arizona | USL League 1 | Regular Season | 1-1 | T | 1-1-1 |
| Fri., April 26 | Tormenta FC | Kino North Stadium, Tucson, Arizona | USL League 1 | Regular Season | 0-2 | L | 1-2-1 |
| Tues., April 30 | Lansing Ignite FC | Kino North Stadium, Tucson, Arizona | USL League 1 | Regular Season | 2-0 | W | 2-2-1 |
| Sat., May 11 | Richmond Kickers | Richmond, Virginia | USL League 1 | Regular Season | 0-2 | L | 2-3-1 |
| Sat., May 18 | Chattanooga Red Wolves SC | Kino North Stadium, Tucson, Arizona | USL League 1 | Regular Season | 4-0 | W | 3-3-1 |
| Fri., May 24 | Toronto FC II | Toronto, Ontario | USL League 1 | Regular Season | 0-1 | L | 3-4-1 |
| Fri., May 31 | Orlando City B | Kino North Stadium, Tucson, Arizona | USL League 1 | Regular Season | 2-2 | T | 3-4-2 |
| Sat., June 8 | Richmond Kickers | Kino North Stadium, Tucson, Arizona | USL League 1 | Regular Season | 0-0 | T | 3-4-3 |
| Wed., June 12 | Orlando City B | Montverde, Florida | USL League 1 | Regular Season | 2-1 | W | 4-4-3 |
| Sat., June 15 | Forward Madison FC | Madison, Wisconsin | USL League 1 | Regular Season | 1-2 | L | 4-5-3 |
| Tues., June 25 | North Texas SC | Frisco, Texas | USL League 1 | Regular Season | 0-1 | L | 4-6-3 |
| Wed., July 3 | Toronto FC II | Kino North Stadium, Tucson, Arizona | USL League 1 | Regular Season | 3-1 | W | 5-6-3 |
| Sat., July 13 | Lansing Ignite FC | Lansing, Michigan | USL League 1 | Regular Season | 2-2 | T | 5-6-4 |
| Sat., July 20 | Greenville Triumph SC | Greenville, South Carolina | USL League 1 | Regular Season | 3-1 | W | 6-6-4 |
| Sat., July 27 | Chattanooga Red Wolves | Chattanooga, Tennessee | USL League 1 | Regular Season | 1-1 | T | 6-6-5 |
| Sat., Aug. 3 | Forward Madison FC | Madison, Wisconsin | USL League 1 | Regular Season | 0-1 | L | 6-7-5 |
| Sat., Aug. 10 | North Texas SC | Frisco, Texas | USL League 1 | Regular Season | 1-1 | T | 6-7-6 |
| Sat., Aug. 17 | Tormenta FC | Statesboro, Georgia | USL League 1 | Regular Season | 1-1 | T | 6-7-7 |
| Sat., Aug. 24 | Orlando City B | Kino North Stadium, Tucson, Arizona | USL League 1 | Regular Season | 3-1 | W | 7-7-7 |
| Fri., Aug. 30 | Chattanooga Red Wolves | Kino North Stadium, Tucson, Arizona | USL League 1 | Regular Season | 1-0 | W | 8-7-7 |
| Fri., Sept. 6 | Lansing Ignite FC | Kino North Stadium, Tucson, Arizona | USL League 1 | Regular Season | 0-5 | L | 8-8-7 |
| Fri., Sept. 13 | Greenville Triumph SC | Greenville, South Carolina | USL League 1 | Regular Season | 0-4 | L | 8-9-7 |
| Sat., Sept. 21 | Richmond Kickers | Kino North Stadium, Tucson, Arizona | USL League 1 | Regular Season | 0-0 | T | 8-9-8 |
| Tues., Sept. 24 | Greenville Triumph SC | Kino North Stadium, Tucson, Arizona | USL League 1 | Regular Season | 2-3 | L | 8-10-8 |
| Fri., Sept. 27 | Forward Madison FC | Kino North Stadium, Tucson, Arizona | USL League 1 | Regular Season | 1-1 | T | 8-10-9 |
| Fri., Oct. 4 | North Texas SC | Kino North Stadium, Tucson, Arizona | USL League 1 | Regular Season | 1-3 | L | 8-11-9 |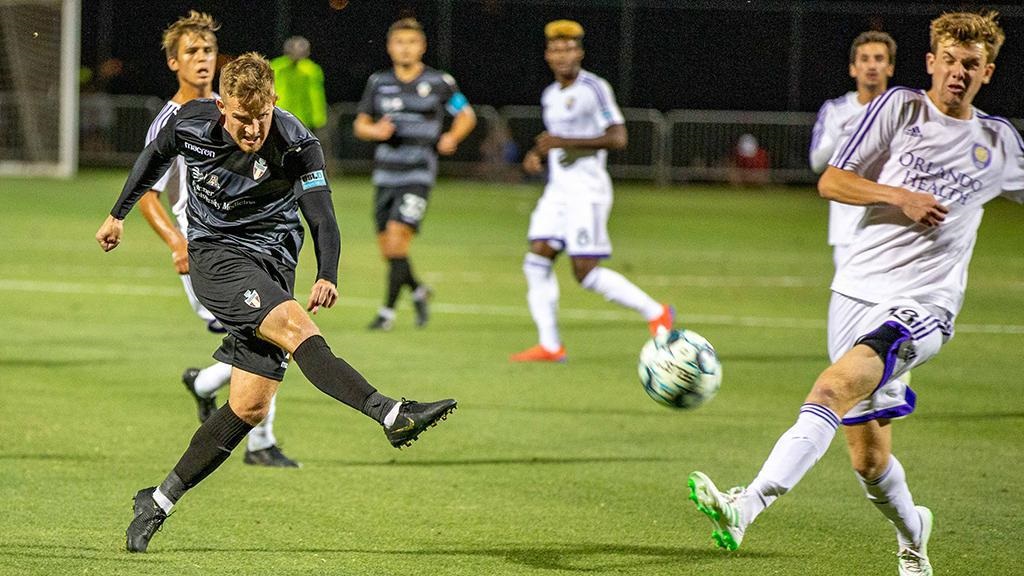 PLAYER STATISTICS
INDIVIDUAL
| # | NAME | GP | GS | MIN | G | A | YC | RC |
| --- | --- | --- | --- | --- | --- | --- | --- | --- |
| 99 | Jordan Jones | 22 | 21 | 1858 | 10 | 3 | 1 | 0 |
| 16 | Devyn Jambga | 25 | 21 | 1894 | 5 | 1 | 1 | 0 |
| 12 | Kyle Venter | 23 | 23 | 2054 | 4 | 1 | 3 | 1 |
| 11 | Jamael Cox | 23 | 18 | 1596 | 3 | 3 | 3 | 0 |
| 9 | Guillermo Delgado | 24 | 12 | 1179 | 3 | 2 | 1 | 0 |
| 15 | Devin Vega | 9 | 7 | 660 | 3 | 0 | 1 | 0 |
| 28 | Andrew Wheeler-Omiunu | 20 | 20 | 1736 | 2 | 0 | 2 | 0 |
| 3 | José Terrón | 19 | 17 | 1475 | 1 | 2 | 4 | 0 |
| 33 | Kody Wakasa | 17 | 14 | 1298 | 1 | 0 | 2 | 0 |
| 50 | Erik Virgen | 16 | 15 | 1275 | 1 | 1 | 1 | 0 |
| 19 | Zach Wright | 22 | 10 | 959 | 1 | 1 | 0 | 0 |
| 13 | Luke Hauswirth | 24 | 21 | 1849 | 0 | 0 | 5 | 0 |
| 22 | Lamar Batista | 18 | 18 | 1620 | 0 | 0 | 5 | 0 |
| 18 | Carlos Merancio | 13 | 13 | 1170 | 0 | 1 | 0 | 0 |
| 95 | Ramone Howell | 12 | 10 | 906 | 0 | 1 | 2 | 0 |
| 23 | Kyle Bjornethun | 8 | 8 | 720 | 0 | 0 | 1 | 0 |
| 6 | Raheem Somersall | 11 | 8 | 713 | 0 | 1 | 2 | 0 |
| 17 | Karsten Hanlin | 9 | 8 | 675 | 0 | 0 | 3 | 0 |
| 2 | Austin Ledbetter | 8 | 7 | 643 | 0 | 0 | 0 | 0 |
| 14 | Colin Stripling | 10 | 5 | 520 | 0 | 0 | 2 | 0 |
| 8 | Eti Tavares | 13 | 4 | 374 | 0 | 0 | 0 | 0 |
| 20 | Scott DeVoss | 5 | 3 | 314 | 0 | 0 | 0 | 0 |
| 25 | Ben Spencer | 3 | 3 | 245 | 0 | 0 | 3 | 0 |
| 7 | Roy Abergil | 7 | 1 | 196 | 0 | 1 | 0 | 0 |
| 10 | Luis Martínez | 2 | 2 | 141 | 0 | 1 | 0 | 0 |
| 25 | Ilijah Paul | 3 | 2 | 126 | 0 | 0 | 0 | 0 |
| 21 | Joey Calistri | 1 | 1 | 72 | 0 | 0 | 0 | 0 |
| 4 | Corey Whelan | 1 | 1 | 63 | 0 | 0 | 0 | 0 |
| 27 | Klisman Sousa | 2 | 0 | 23 | 0 | 0 | 1 | 0 |
GOALKEEPING
| # | NAME | GP | MIN | GA | SV | YC | RC | SV% | GAA |
| --- | --- | --- | --- | --- | --- | --- | --- | --- | --- |
| 24 | Phillip Ejimadu | 15 | 1350 | 21 | 37 | 0 | 0 | 64% | 1.40 |
| 18 | Carlos Merancio | 13 | 1170 | 20 | 41 | 0 | 0 | 67% | 1.54 |