A team-record 38 goals filled the nets during the winningest season in club history.
FC Tucson went 11-1-2 in the Premier Development League (PDL), winning all seven league road games, and finished with 35 points – second most in the entire PDL.
The club finished 16-3-2 overall in its last season with Rick Schantz at the helm. The amazing season ended in a third consecutive Western Division final, where FC Tucson fell short against eventual national runner-up Calgary Foothills FC.
Midfielder Michael Turner and defender Gordon Hall were named to the All-Western Conference team.
DATE
OPPONENT
SITE
LEAGUE
ROUND
SCORE
RESULT
RECORD
Sat., May 7
San Diego Zest FC
James Madison High School
PDL
Regular Season
1-0
W
1-0-0
Sat., May 14
Ventura County Fusion
Ventura College
PDL
Regular Season
2-0
W
2-0-0
Sat., May 21
Southern California Seahorses
Kino North Stadium, Tucson, Arizona
PDL
Regular Season
1-1
T
2-0-1
Sat., May 28
FC Golden State Force
Citrus College
PDL
Regular Season
5-2
W
3-0-1
Mon., May 30
Orange County SC U23
Irvine Valley College
PDL
Regular Season
3-1
W
4-0-1
Sat., June 4
FC Golden State Force
Kino North Stadium, Tucson, Arizona
PDL
Regular Season
1-1
T
4-0-2
Sun., June 12
Orange County SC U23
Kino North Stadium, Tucson, Arizona
PDL
Regular Season
3-0
W
5-0-2
Sat., June 18
Southern California Seahorses
La Mirada High School
PDL
Regular Season
2-0
W
6-0-2
Sat., June 25
Albuquerque Sol FC
UNM Soccer Stadium
PDL
Regular Season
2-0
W
7-0-2
Tues., June 28
LA Laguna FC
Citrus College
PDL
Regular Season
4-2
W
8-0-2
Sun., July 3
LA Laguna FC
Kino North Stadium, Tucson, Arizona
PDL
Regular Season
3-1
W
9-0-2
Sat., July 9
San Diego Zest FC
Kino North Stadium, Tucson, Arizona
PDL
Regular Season
1-2
L
9-1-2
Wed., July 13
Albuquerque Sol FC
Kino North Stadium, Tucson, Arizona
PDL
Regular Season
5-0
W
10-1-2
Sat., July 16
Ventura County Fusion
Kino North Stadium, Tucson, Arizona
PDL
Regular Season
5-2
W
11-1-2
Fri., July 22
Burlingame Dragons FC
Kino North Stadium, Tucson, Arizona
PDL
Conference Semifinals
3-2
W
Sat., July 23
Calgary Foothills FC
Kino North Stadium, Tucson, Arizona
PDL
Conference Finals
1-2
L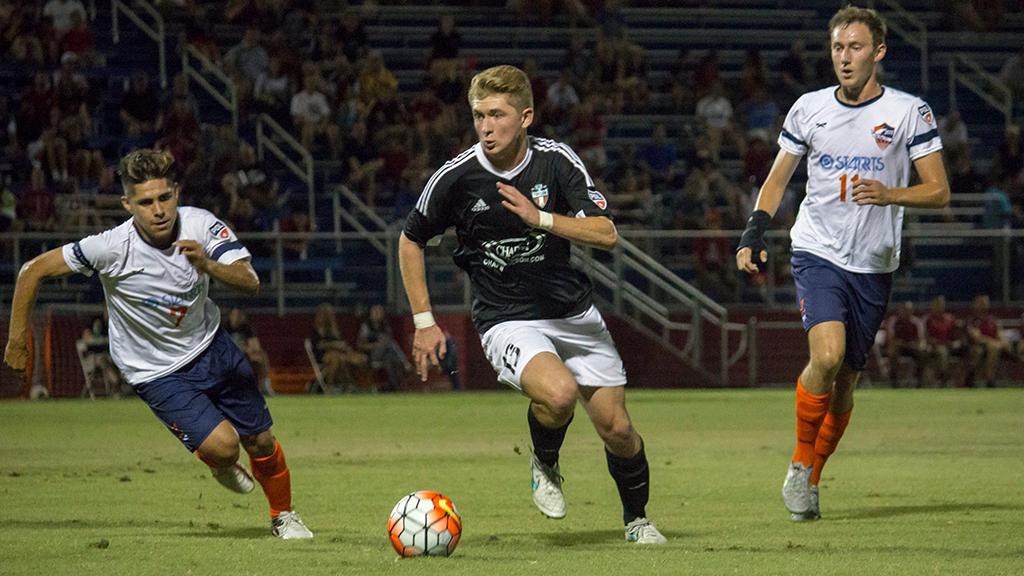 PLAYER STATISTICS
INDIVIDUAL
| # | NAME | GP | MIN | G | A | SH | YC | RC |
| --- | --- | --- | --- | --- | --- | --- | --- | --- |
| | Afonso Pinheiro | 13 | 652 | 9 | 1 | 19 | 2 | 0 |
| | Damian German | 12 | 935 | 6 | 2 | 23 | 2 | 0 |
| | Tate Schmitt | 14 | 940 | 6 | 4 | 23 | 3 | 0 |
| | Pedro Espindola | 12 | 470 | 5 | 2 | 18 | 3 | 0 |
| | Michael Turner | 13 | 927 | 3 | 3 | 11 | 0 | 0 |
| | Minh Vu | 4 | 331 | 3 | 0 | 4 | 0 | 0 |
| | Carlos Delgadillo | 6 | 324 | 2 | 2 | 9 | 2 | 0 |
| | Jon Bakero | 8 | 582 | 1 | 2 | 13 | 0 | 0 |
| | Zachariah Joens | 8 | 377 | 1 | 0 | 6 | 0 | 0 |
| | Michael Sauers | 6 | 179 | 1 | 0 | 1 | 0 | 0 |
| | Ozzie Ramos | 8 | 567 | 1 | 0 | 7 | 1 | 0 |
| | Matthew Callahan | 6 | 382 | 0 | 0 | 1 | 3 | 0 |
| | Kyle Adams | 11 | 839 | 0 | 0 | 0 | 0 | 0 |
| | Casey Macias | 3 | 36 | 0 | 0 | 0 | 0 | 0 |
| | Edgar Reyna | 9 | 359 | 0 | 0 | 2 | 1 | 0 |
| | Borja Angoitia | 1 | 90 | 0 | 0 | 0 | 0 | 0 |
| | Dominic Papa | 2 | 108 | 0 | 0 | 1 | 0 | 0 |
| | Musa Morris | 1 | 66 | 0 | 0 | 0 | 0 | 1 |
| | Brennan Castro | 5 | 374 | 0 | 0 | 1 | 1 | 0 |
| | Brandon Gillingham | 6 | 127 | 0 | 0 | 0 | 2 | 0 |
| | Daniel Koniarczyk | 6 | 156 | 0 | 0 | 0 | 0 | 0 |
| | Briley Guarneri | 1 | 90 | 0 | 0 | 0 | 0 | 0 |
| | Evan Waldrep | 11 | 834 | 0 | 1 | 5 | 0 | 0 |
| | Francesco Bartolillo | 4 | 29 | 0 | 0 | 0 | 0 | 0 |
| | Gordon Hall | 11 | 907 | 0 | 0 | 2 | 1 | 0 |
| | Gonnie Ben-Tal | 6 | 477 | 0 | 0 | 2 | 1 | 0 |
| | Sean Keith | 10 | 534 | 0 | 0 | 2 | 1 | 0 |
| | Aaron Herrera | 5 | 451 | 0 | 1 | 3 | 2 | 0 |
| | Kevin Blackwood | 8 | 330 | 0 | 0 | 2 | 1 | 0 |
| | Kalem Scott | 2 | 135 | 0 | 1 | 0 | 0 | 0 |
GOALKEEPING
| # | NAME | GP | MIN | GA | SV | YC | RC | SV% | GAA |
| --- | --- | --- | --- | --- | --- | --- | --- | --- | --- |
| | Borja Angoitia | 9 | 810 | 3 | 30 | 0 | 0 | 0.909 | 0.33 |
| | Thomas Olsen | 5 | 405 | 4 | 20 | 0 | 0 | 0.833 | 0.89 |
| | Briley Guarneri | 1 | 45 | 1 | 3 | 0 | 0 | 0.75 | 1 |