FCT Tucson's fourth season in the USL Premier Development League (PDL) ended up with another trip to the conference final, as the club lost it just two games en route to winning the Mountain Division.
FC Tucson avenged one of those defeats, to Albuquerque Sol FC with a 2-0 home win to win the Southwestern Showdown rivalry and retain the Golden Rattler Trophy.
The club again claimed two playoff victories — the first coming on an 86th-minute goal by long-time veteran Edgar Reyna, and the second against previously undefeated and 2014 national runner-up Kitsap Pumas — before losing in the PDL Western Conference final.
Forward Pedro Espindola and defender Kalem Scott were named to the All-Western Conference team.
DATE
OPPONENT
SITE
LEAGUE
ROUND
SCORE
RESULT
RECORD
Fri., May 8
Las Vegas Mobsters
Liberty High School Stadium
PDL
Regular Season
2-2
T
0-0-1
Sat., May 16
Ventura County Fusion
Kino North Stadium, Tucson, Arizona
PDL
Regular Season
2-1
W
1-0-1
Sat., May 23
BYU Cougars
Kino North Stadium, Tucson, Arizona
PDL
Regular Season
0-0
T
1-0-2
Sat., May 30
Las Vegas Mobsters
Kino North Stadium, Tucson, Arizona
PDL
Regular Season
2-0
W
2-0-2
Sat., June 6
Albuquerque Sol FC
Ben Rios Field at St Pius X High School, Albuquerque, New Mexico
PDL
Regular Season
0-1
L
2-1-2
Sat., June 13
LA Laguna
Kino North Stadium, Tucson, Arizona
PDL
Regular Season
2-0
W
3-1-2
Wed., June 17
Real Colorado Foxes
Shea Stadium, Highlands Ranch, Colorado
PDL
Regular Season
1-1
T
3-1-3
Fri., June 19
BYU Cougars
BYU South Field, Provo, Utah
PDL
Regular Season
2-2
T
3-1-4
Sat., June 20
BYU Cougars
BYU South Field, Provo, Utah
PDL
Regular Season
3-1
W
4-1-4
Fri., June 26
Real Colorado Foxes
Kino North Stadium, Tucson, Arizona
PDL
Regular Season
1-2
L
4-2-4
Sat., June 27
Real Colorado Foxes
Kino North Stadium, Tucson, Arizona
PDL
Regular Season
4-3
W
5-2-4
Sun., July 4
Albuquerque Sol FC
Kino North Stadium, Tucson, Arizona
PDL
Regular Season
2-0
W
6-2-4
Sun., July 11
Fresno Fuego
Chukchansi Park
PDL
Regular Season
3-1
W
7-2-4
Sun., July 12
Orange County II
Vanguard University Stadium
PDL
Regular Season
4-1
W
8-2-4
Sat., July 18
Albuquerque Sol FC
Kino North Stadium, Tucson, Arizona
PDL
Mountain Division Qualifier
2-1
W
Fri., July 24
Kitsap SC
Kino North Stadium, Tucson, Arizona
PDL
Western Conference Semifinal
4-1
W
Sat., July 25
Seattle Sounders FC U23
Kino North Stadium, Tucson, Arizona
PDL
Western Conference Final
1-2
L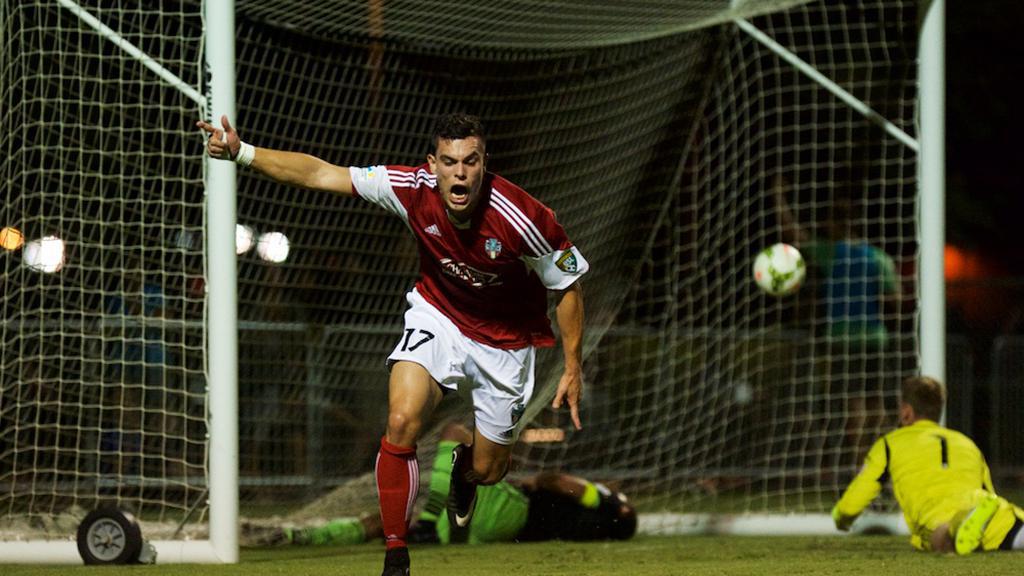 PLAYER STATISTICS
INDIVIDUAL
| # | NAME | GP | MIN | G | A | SH | FOULS |
| --- | --- | --- | --- | --- | --- | --- | --- |
| 10 | David Clemens | 13 | 920 | 6 | 4 | 14 | 11 |
| 12 | Luis Martinez | 13 | 1094 | 4 | 2 | 12 | 11 |
| 9 | Ozzie Ramos | 13 | 1024 | 1 | 0 | 10 | 9 |
| 17 | Edgar Reyna | 13 | 588 | 0 | 2 | 5 | 7 |
| 15 | Pedro Espindola | 12 | 845 | 5 | 3 | 9 | 8 |
| 19 | Brandon Zambrano | 12 | 885 | 3 | 3 | 7 | 10 |
| 23 | Sebastian Pineda | 12 | 906 | 0 | 0 | 0 | 2 |
| 13 | Kalem Scott | 12 | 1004 | 0 | 0 | 3 | 11 |
| 22 | Devante Dubose | 11 | 765 | 1 | 2 | 1 | 7 |
| 2 | Michael Turner | 9 | 671 | 1 | 1 | 2 | 3 |
| 7 | Justin Bilyeu | 7 | 504 | 1 | 1 | 6 | 0 |
| 14 | Arturo Rodriguez Prat | 7 | 477 | 0 | 1 | 1 | 4 |
| 5 | Austin Ledbetter | 7 | 469 | 0 | 0 | 3 | 3 |
| 16 | Nestor Jaramillo | 6 | 312 | 2 | 0 | 1 | 1 |
| 12 | Travis Nicklaw | 5 | 188 | 1 | 0 | 2 | 1 |
| 25 | Elliot Prost | 5 | 90 | 0 | 0 | 2 | 1 |
| 18 | Dallas Jaye | 5 | 405 | 0 | 0 | 0 | 1 |
| 14 | Patrick Hickman | 5 | 283 | 0 | 0 | 0 | 4 |
| 11 | Cylus Sandoval | 5 | 138 | 0 | 0 | 0 | 0 |
| 0 | Keegan Rogers | 5 | 405 | 0 | 0 | 0 | 0 |
| 24 | Odaine Sinclair | 4 | 173 | 1 | 0 | 2 | 3 |
| 4 | Majed Osman | 4 | 214 | 1 | 0 | 1 | 0 |
| 20 | Eduardo Sanchez | 4 | 165 | 0 | 1 | 4 | 4 |
| 6 | Felipe da Silva | 4 | 302 | 0 | 0 | 0 | 1 |
| 21 | Merlin Hoeckendorff | 3 | 270 | 0 | 0 | 0 | 1 |
| 6 | Brandon Beresford | 3 | 125 | 0 | 0 | 0 | 0 |
| 1 | Yann Passet | 3 | 270 | 0 | 0 | 0 | 0 |
| 26 | Thomas Olsen | 2 | 180 | 0 | 0 | 0 | 0 |
| 8 | Matheus Miranda | 2 | 112 | 0 | 0 | 0 | 1 |
| 11 | Andrew Lawrence | 1 | 5 | 0 | 0 | 0 | 1 |
| 3 | Jack Huber | 1 | 7 | 0 | 0 | 0 | 0 |
GOALKEEPING
| # | NAME | GP | MIN | GA | SV | SV% | GAA |
| --- | --- | --- | --- | --- | --- | --- | --- |
| 18 | Dallas Jaye | 5 | 405 | 4 | 16 | 80% | 0.89 |
| 26 | Thomas Olsen | 2 | 180 | 3 | 4 | 57.1% | 1.50 |
| 1 | Yann Passet | 3 | 270 | 3 | 11 | 78.6% | 1.00 |
| 0 | Keegan Rogers | 5 | 405 | 5 | 10 | 66.7% | 1.11 |