In the first of its seven seasons in the USL Premier Development League (PDL), FC Tucson went 9-3-4 to finished second in the Southwest Division behind Ventura County Fusion and reach the playoffs.
In its first home league match, Donny Toia scored the lone goal in a win over the Southern California Seahorses before 812 at a packed Kino North Grandstand on May 19.
Toia, who went on to play 153 matches in Major League Soccer between 2014-19, led FC Tucson with six league goals and helped the club put together an 11-match unbeaten run in all matches. Defender Conor Spence was named to the All-Western Conference team.
Future US Men's National Team Player and 2018 Major League Soccer Defender of the Year Aaron Long made 11 starts for Tucson while playing college soccer at University of California Riverside.
DATE
OPPONENT
SITE
LEAGUE
ROUND
SCORE
RESULT
RECORD
Sat., May 5
Fresno Fuego
Fresno, California
PDL
Regular Season
1-2
L
0-1-0
Sat., May 12
Pali Blues
Los Angeles, California
PDL
Regular Season
1-0
W
1-1-0
Sat., May 19
Southern California Seahorses
Kino Sports Complex North Field No. 5
PDL
Regular Season
1-0
W
2-1-0
Sat., May 26
Pali Blues
Kino Sports Complex North Field No. 5
PDL
Regular Season
1-0
W
3-1-0
Sat., June 2
Fresno Fuego
Kino Sports Complex North Field No. 5
PDL
Regular Season
1-0
W
4-1-0
Tues., June 5
BYU Cougars
BYU South Field, Provo, Utah
PDL
Regular Season
1-0
W
5-1-0
Thur., June 7
Ogden Outlaws
Washington Terrace, Utah
PDL
Regular Season
3-0
W
6-1-0
Thur., June 14
Los Angeles Misioneros
Kino Sports Complex North Field No. 5
PDL
Regular Season
1-1
T
6-1-1
Sat., June 16
Ventura County Fusion
Ventura College, Ventura, California
PDL
Regular Season
1-1
T
6-1-2
Mon., June 18
Los Angeles Misioneros
Los Angeles, California
PDL
Regular Season
1-1
T
6-1-3
Sat., June 23
Orange County Blue Star
Kino Sports Complex North Field No. 5
PDL
Regular Season
2-1
W
7-1-3
Sat., June 30
Ventura County Fusion
Kino Sports Complex North Field No. 5
PDL
Regular Season
0-2
L
7-2-3
Fri., July 6
BYU Cougars
Kino Sports Complex North Field No. 5
PDL
Regular Season
3-0
W
8-2-3
Sun., July 8
Ogden Outlaws
Kino Sports Complex North Field No. 5
PDL
Regular Season
0-0
T
8-2-4
Wed., July 11
Southern California Seahorses
La Mirada, California
PDL
Regular Season
4-2
W
9-2-4
Fri., July 13
Orange County Blue Star
Irvine, California
PDL
Regular Season
0-6
L
9-3-4
Sat., July 21
Seattle Sounders FC U23
Ventura College, Ventura, California
PDL
Western Conference Semifinal
1-2
L
PLAYER STATISTICS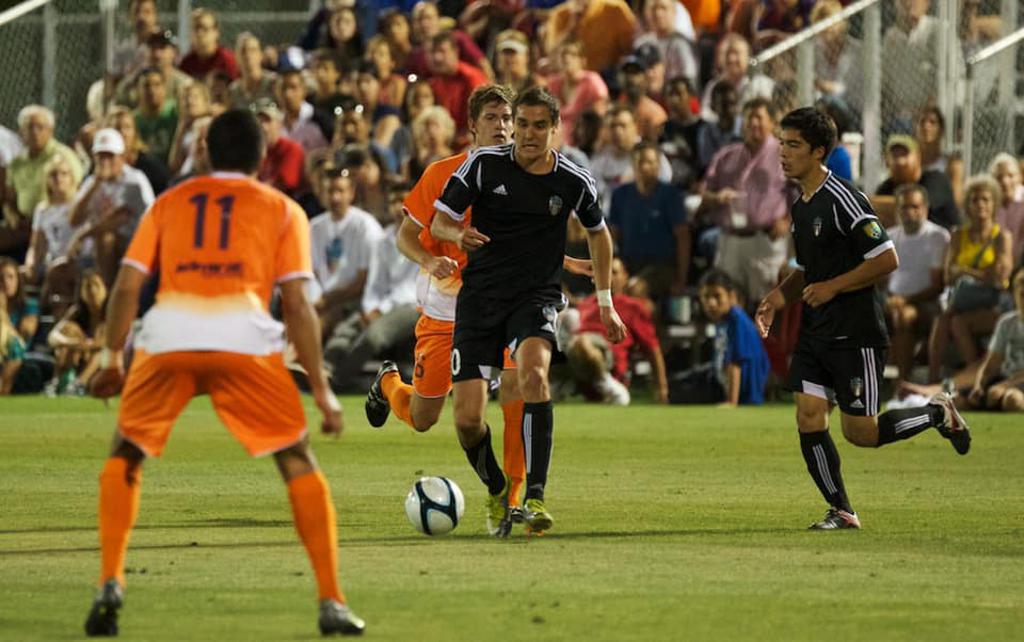 INDIVIDUAL
| # | NAME | GP | MIN | G | A | SH | YC |
| --- | --- | --- | --- | --- | --- | --- | --- |
| 2 | Reid Schmitt | 16 | 1175 | 1 | 2 | 20 | 8 |
| 3 | Conor Spence | 16 | 1363 | 1 | 0 | 4 | 15 |
| 9 | Donny Toia | 15 | 1273 | 5 | 2 | 62 | 24 |
| 11 | Max Alvarez | 15 | 1132 | 1 | 2 | 20 | 11 |
| 19 | Philippe Garre | 12 | 371 | 2 | 0 | 4 | 1 |
| 21 | James Cohn | 12 | 686 | 1 | 0 | 6 | 6 |
| 15 | Dom Papa | 12 | 942 | 1 | 0 | 15 | 5 |
| 17 | Kareem Smith | 12 | 995 | 0 | 0 | 0 | 8 |
| 10 | Aaron Long | 11 | 664 | 1 | 3 | 9 | 13 |
| 14 | Elijah Galbraith-Knapp | 10 | 601 | 0 | 0 | 7 | 7 |
| 1 | Brendan Roslund | 10 | 900 | 0 | 0 | 0 | 0 |
| 4 | Colin Anderson | 9 | 640 | 0 | 0 | 5 | 7 |
| 7 | Nick Marshall | 9 | 431 | 0 | 0 | 4 | 7 |
| 8 | Carlos Montes | 8 | 556 | 2 | 2 | 8 | 5 |
| 5 | Thomas Iwasaki | 8 | 366 | 0 | 0 | 4 | 4 |
| 24 | Matt Linenberger | 8 | 443 | 0 | 0 | 0 | 6 |
| 20 | Kyle McQuown | 7 | 92 | 0 | 0 | 1 | 1 |
| 23 | Travis Campbell | 6 | 518 | 1 | 0 | 4 | 8 |
| 18 | Michael D'Arrigo | 6 | 540 | 0 | 0 | 0 | 0 |
| 16 | Kevin King | 5 | 344 | 2 | 1 | 16 | 10 |
| 12 | Michael Kraus | 5 | 439 | 0 | 0 | 3 | 2 |
| 13 | Travis Sanchez | 4 | 174 | 1 | 0 | 3 | 7 |
| 7 | Ricardo Velazco | 4 | 317 | 0 | 1 | 11 | 2 |
| 13 | Wes Culver | 4 | 225 | 0 | 0 | 1 | 2 |
| 25 | Junior Albon Gbapou | 4 | 218 | 0 | 0 | 3 | 1 |
| 6 | Reid Hukari | 3 | 194 | 2 | 0 | 4 | 2 |
| 22 | Danny Kirkland | 3 | 14 | 0 | 0 | 0 | 0 |
| 6 | Nicholas Sykes | 2 | 87 | 0 | 0 | 0 | 1 |
| | Matthew Armstrong | 1 | 90 | 0 | 0 | 0 | 2 |
GOALKEEPING
#
NAME
GP
MIN
GA
SV
SV%
GAA
18
Michael D'Arrigo
6
540
4
34
82.9%
0.66
1
Brendan Roslund
10
900
12
31
73.8%
1.20
0
Mike Selmo
0
0
0