The COVID-19 pandemic pushed the start of the 2020 USL League One season to July and results in an abbreviated schedule for all the clubs.
In January, FC Tucson announced Amanda Powers was the club's first President. Powers, formerly the Chief Operating Officer for USL Championship's New Mexico United, became just the second female president of a U.S. men's professional soccer club.
Under first-year head coach John Galas, FC Tucson went 6-6-4 and finished sixth in USL League One.
Shak Adams and Josh Coan finished tied for the team-lead with four goals apiece, while Coan was voted the USL League One Goal of the Year. Forward Azaad Liadi and Coan each were named Player of the Week during the season.
| DATE | OPPONENT | SITE | LEAGUE | ROUND | SCORE | RESULT | RECORD |
| --- | --- | --- | --- | --- | --- | --- | --- |
| Sat., July 25 | Fort Lauderdale CF | Fort Lauderdale, Florida | USL League 1 | Regular Season | 2-1 | W | 1-0-0 |
| Sat., Aug. 1 | Chattanooga Red Wolves SC | East Ridge, Tennessee | USL League 1 | Regular Season | 0-1 | L | 1-1-0 |
| Sat., Aug. 8 | Union Omaha | Kino North Stadium, Tucson, Arizona | USL League 1 | Regular Season | 1-2 | L | 1-2-0 |
| Sat., Aug. 15 | Richmond Kickers | Richmond, Virginia | USL League 1 | Regular Season | 1-2 | L | 1-3-0 |
| Tues., Aug. 18 | Orlando City B | Kissimmee, Florida | USL League 1 | Regular Season | 4-1 | W | 2-3-0 |
| Sat., Aug. 29 | Union Omaha | Papillion, Nebraska | USL League 1 | Regular Season | 1-2 | L | 2-4-0 |
| Sat., Sept. 5 | Richmond Kickers | Kino North Stadium, Tucson, Arizona | USL League 1 | Regular Season | 2-2 | T | 2-4-1 |
| Sat., Sept. 12 | North Texas SC | Kino North Stadium, Tucson, Arizona | USL League 1 | Regular Season | 0-2 | L | 2-5-1 |
| Wed., Sept. 16 | New England Revolution II | Kino North Stadium, Tucson, Arizona | USL League 1 | Regular Season | 1-0 | W | 3-5-1 |
| Sat., Sept. 19 | North Texas SC | Arlington, Texas | USL League 1 | Regular Season | 1-1 | T | 3-5-2 |
| Wed., Sept.r 23 | Forward Madison FC | Kino North Stadium, Tucson, Arizona | USL League 1 | Regular Season | 2-1 | W | 4-5-2 |
| Sat., Sept.r 26 | Fort Lauderdale CF | Kino North Stadium, Tucson, Arizona | USL League 1 | Regular Season | 1-2 | L | 4-6-2 |
| Sat., Oct. 3 | Forward Madison FC | Wauwatosa, Wisconsin | USL League 1 | Regular Season | 0-0 | T | 4-6-3 |
| Wed., Oct. 7 | Tormenta FC | Statesboro, Georgia | USL League 1 | Regular Season | 1-0 | W | 5-6-3 |
| Sat., Oct. 10 | Greenville Triumph SC | Kino North Stadium, Tucson, Arizona | USL League 1 | Regular Season | 2-2 | T | 5-6-4 |
| Sat., Oct. 17 | Orlando City B | Kino North Stadium, Tucson, Arizona | USL League 1 | Regular Season | 2-0 | W | 6-6-4 |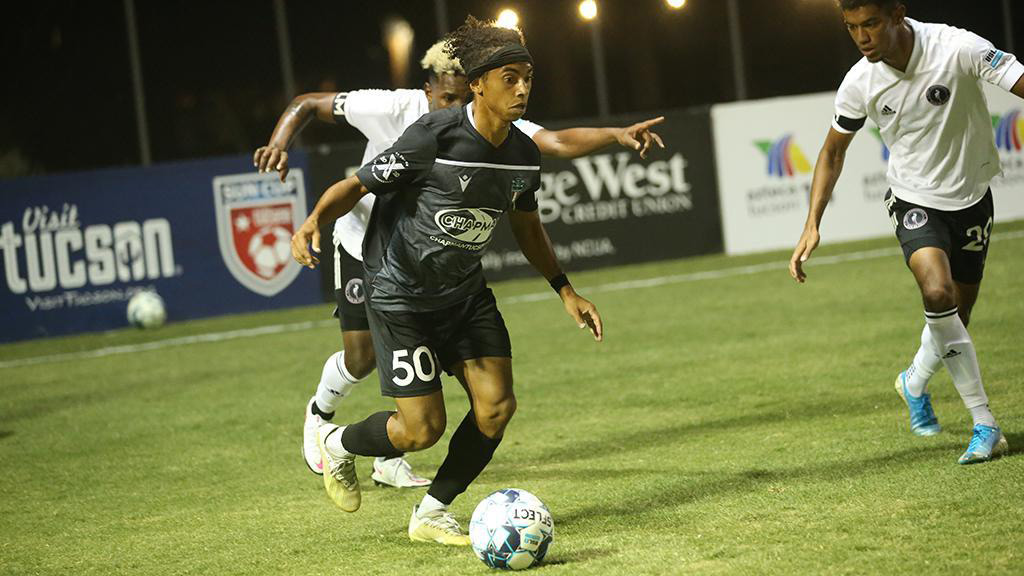 PLAYER STATISTICS
INDIVIDUAL
| # | NAME | GP | GS | MIN | G | A | YC | RC |
| --- | --- | --- | --- | --- | --- | --- | --- | --- |
| 77 | Shak Adams | 12 | 9 | 809 | 4 | 2 | 0 | 0 |
| 11 | Josh Coan | 11 | 6 | 561 | 4 | 0 | 0 | 0 |
| 6 | Brazil Elivelton | 16 | 14 | 1104 | 3 | 2 | 1 | 0 |
| 9 | Azaad Liadi | 15 | 11 | 979 | 3 | 3 | 5 | 0 |
| 19 | Giovanni Ramos-Godoy | 15 | 11 | 952 | 3 | 0 | 2 | 0 |
| 7 | Roberto Alarcón | 16 | 15 | 1330 | 2 | 2 | 5 | 0 |
| 23 | Erik Virgen | 12 | 10 | 907 | 1 | 0 | 3 | 0 |
| 26 | A. J. Valenzuela | 3 | 1 | 100 | 1 | 0 | 1 | 0 |
| 20 | Niall Logue | 16 | 16 | 1440 | 0 | 0 | 4 | 0 |
| 10 | Charlie Dennis | 15 | 14 | 1176 | 0 | 5 | 3 | 0 |
| 5 | Esteban Calvo | 13 | 12 | 1080 | 0 | 0 | 2 | 0 |
| 16 | Samuel Biek | 12 | 12 | 1062 | 0 | 0 | 4 | 0 |
| 1 | Carlos Merancio | 9 | 9 | 810 | 0 | 1 | 1 | 0 |
| 33 | Tommy Silva | 9 | 8 | 721 | 0 | 1 | 1 | 0 |
| 44 | Raheem Somersall | 9 | 8 | 628 | 0 | 0 | 1 | 0 |
| 27 | Jordan Pena | 5 | 5 | 450 | 0 | 0 | 2 | 0 |
| 95 | Ramone Howell | 14 | 2 | 294 | 0 | 0 | 0 | 0 |
| 21 | Charlie Booth | 9 | 3 | 282 | 0 | 0 | 0 | 0 |
| 14 | Manuel Ferriol | 9 | 1 | 208 | 0 | 1 | 1 | 0 |
| 17 | Gio Magaña-Rivera | 2 | 1 | 99 | 0 | 0 | 1 | 0 |
| 2 | Darryl Longdon | 6 | 0 | 92 | 0 | 0 | 0 | 0 |
| 50 | Darius Lewis | 5 | 0 | 52 | 0 | 0 | 1 | 0 |
| 4 | Jordan Hill | 1 | 0 | 1 | 0 | 0 | 0 | 0 |
GOALKEEPING
| # | NAME | GP | MIN | GA | SV | YC | RC | SV% | GAA |
| --- | --- | --- | --- | --- | --- | --- | --- | --- | --- |
| 99 | Amal Knight | 7 | 630 | 6 | 26 | 0 | 0 | 81% | 1.17 |
| 1 | Carlos Merancio | 9 | 810 | 13 | 25 | 1 | 0 | 66% | 0.69 |