With general manager Jon Pearlman stepping into the coach's box to replace Rick Schantz, FC Tucson still kept up its winning ways.
Sparked by a club-record 12 PDL goals by Moshe Perez, the team won its fourth straight Mountain Division title after going 9-2-3 in league play.
In addition to making the playoffs, where it lost in the Western Conference semifinals, the club also reached the second round of the U.S. Open Cup.
FC Tucson was purchased by Phoenix Rising FC of the United Soccer League (now the USL Championship), on October 11, 2017, to serve as Phoenix's PDL affiliate.
Perez was named to the All-Conference and All-League teams.
DATE
OPPONENT
SITE
LEAGUE
ROUND
SCORE
RESULT
RECORD
Fri., May 5
BYU Cougars
Kino North Stadium, Tucson, Arizona
PDL
Regular Season
0-3
L
0-1-0
Sat., May 6
BYU Cougars
Kino North Stadium, Tucson, Arizona
PDL
Regular Season
1-1
T
0-1-1
Sat., May 13
San Diego Zest FC
James Madison High School
PDL
Regular Season
2-0
W
1-1-1
Sat., May 20
Albuquerque Sol FC
Ben Rios Field at St Pius X High School, Albuquerque, New Mexico
PDL
Regular Season
4-2
W
2-1-1
Thur., May 25
Colorado Rapids U23
Dick's Sporting Goods Park Field 20
PDL
Regular Season
1-2
L
2-2-1
Fri., May 26
FC Boulder U23
Pleasant View Soccer Complex
PDL
Regular Season
5-0
W
3-2-1
Fri., June 2
FC Boulder U23
Kino North Stadium, Tucson, Arizona
PDL
Regular Season
5-1
W
4-2-1
Sat., June 17
San Diego Zest FC
Kino North Stadium, Tucson, Arizona
PDL
Regular Season
1-0
W
5-2-1
Sat., June 24
Albuquerque Sol FC
Kino North Stadium, Tucson, Arizona
PDL
Regular Season
3-1
W
6-2-1
Sat., July 1
Albuquerque Sol FC
UNM Soccer Stadium
PDL
Regular Season
2-2
T
6-2-2
Mon., July 3
Albuquerque Sol FC
Kino North Stadium, Tucson, Arizona
PDL
Regular Season
2-1
W
7-2-2
Tues., July 11
BYU Cougars
BYU South Field, Provo, Utah
PDL
Regular Season
2-1
W
8-2-2
Wed., July 12
BYU Cougars
BYU South Field, Provo, Utah
PDL
Regular Season
4-1
W
9-2-2
Sat., July 15
Colorado Rapids U23
Kino North Stadium, Tucson, Arizona
PDL
Regular Season
2-2
T
9-2-3
Fri., July 21
Fresno Fuego
Kino North Stadium, Tucson, Arizona
PDL
Conference Semifinals
0-1
L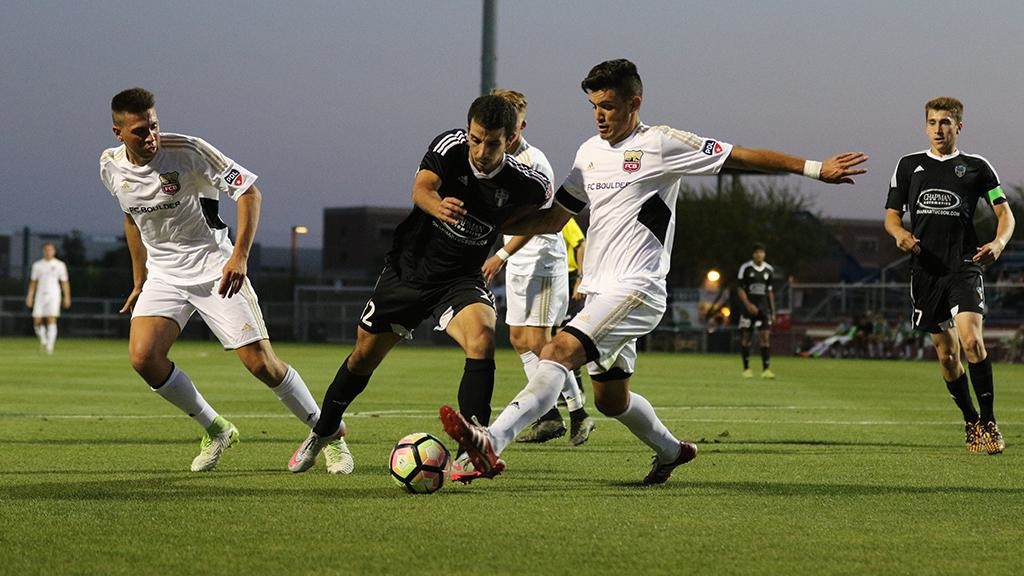 PLAYER STATISTICS
INDIVIDUAL
| # | NAME | GP | MIN | G | A | SH | YC | RC |
| --- | --- | --- | --- | --- | --- | --- | --- | --- |
| 12 | Moshe Perez | 12 | 718 | 12 | 1 | 30 | 2 | 0 |
| 20 | Daniel Krutzen | 7 | 583 | 5 | 2 | 14 | 0 | 0 |
| 7 | Tate Schmitt | 11 | 914 | 4 | 2 | 29 | 1 | 0 |
| 4 | Daniel Musovski | 7 | 516 | 4 | 1 | 8 | 0 | 0 |
| 19 | Afonso Pinheiro | 11 | 785 | 3 | 5 | 17 | 2 | 0 |
| 8 | Kevin Partida | 8 | 555 | 2 | 0 | 13 | 2 | 0 |
| 23 | Kalem Scott | 11 | 316 | 1 | 1 | 2 | 0 | 0 |
| | Robert Ferrer | 4 | 155 | 1 | 0 | 2 | 0 | 0 |
| 2 | Sebastián Pineda | 13 | 915 | 1 | 0 | 4 | 0 | 0 |
| 9 | Wedner Delmonte | 7 | 441 | 1 | 0 | 8 | 0 | 0 |
| 15 | Austin Polster | 13 | 927 | 0 | 0 | 2 | 2 | 0 |
| 16 | Nicolás Solabarrieta | 8 | 319 | 0 | 2 | 2 | 1 | 0 |
| 11 | Romario Georgis | 3 | 62 | 0 | 0 | 1 | 0 | 0 |
| | Kevin Blackwood | 4 | 59 | 0 | 0 | 1 | 0 | 0 |
| 9 | Ozzie Ramos | 7 | 430 | 0 | 0 | 10 | 2 | 0 |
| 0 | Lucas Vallilo | 1 | 0 | 0 | 0 | 0 | 0 | 0 |
| | Kareem Banton | 9 | 618 | 0 | 0 | 1 | 0 | 0 |
| 3 | Gordon Hall | 9 | 586 | 0 | 0 | 0 | 1 | 0 |
| 24 | Nicolas Harguindeguy | 12 | 581 | 0 | 0 | 4 | 2 | 0 |
| 13 | Giovanny Vazquez | 7 | 479 | 0 | 0 | 1 | 1 | 0 |
| 1 | Luis Barraza | 1 | 90 | 0 | 0 | 0 | 0 | 0 |
| 25 | Esteban Berumen | 8 | 275 | 0 | 0 | 2 | 0 | 0 |
| 22 | Gavino Carranza | 7 | 268 | 0 | 0 | 3 | 0 | 0 |
| 5 | Carl Hinkson | 8 | 486 | 0 | 1 | 4 | 1 | 0 |
| 10 | Adam Musovski | 3 | 96 | 0 | 0 | 0 | 0 | 0 |
| 17 | Edgar Reyna | 2 | 16 | 0 | 0 | 0 | 0 | 0 |
| 21 | Kyle Van Alstine | 5 | 208 | 0 | 0 | 1 | 2 | 0 |
| | Jose Ortiz Teran | 2 | 146 | 0 | 0 | 1 | 0 | 0 |
| | Aaron Herrera | 6 | 534 | 0 | 0 | 3 | 2 | 0 |
| | Erik Virgen | 3 | 78 | 0 | 0 | 1 | 0 | 0 |
| | Yuki Tatsuma | 1 | 17 | 0 | 0 | 0 | 0 | 0 |
| 18 | Shawn Spitzer | 2 | 0 | 0 | 0 | 0 | 0 | 0 |
| | Ryosuke Hitayama | 1 | 59 | 0 | 0 | 0 | 0 | 0 |
GOALKEEPING
| # | NAME | GP | MIN | GA | SV | YC | RC | SV% | GAA |
| --- | --- | --- | --- | --- | --- | --- | --- | --- | --- |
| 1 | Luis Barraza | 5 | 450 | 6 | 28 | 2 | 0 | 0.824 | 1.2 |
| 0 | Lucas Vallilo | 6 | 540 | 4 | 20 | 0 | 0 | 0.833 | 0.67 |
| 18 | Briley Guarneri | 2 | 180 | 5 | 5 | 0 | 0 | 0.5 | 2.5 |